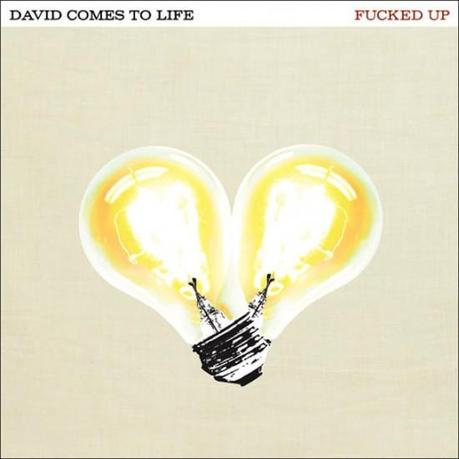 Queen of Hearts – Fucked Up
The Other Shoe – Fucked Up
A Little Death – Fucked Up
Four years ago, a Toronto-based hardcore band with an incredibly hardcore name became critical darlings. Fucked Up's The Chemistry of Common Life was one of the greatest and most interesting hardcore records in a long time. They took the confines of a genre and expanded them outwards—they added an artfulness to the anger of punk music that would have made the  genre's pioneers not only proud, but really fucking jealous. Fucked Up continues their habit of genre pushing iconoclasm with the spectacular David Comes to Life, a 78 minute rock opera.
David Comes to Life is not a record that can be listened to casually. It is dense in story, heavy in tone and there is little respite from the onslaught of Damien Abraham's bellowing screams and the band's motoring guitars. It is a record that has to be digested, considered and reconsidered. It is the definition of difficult music.
The story, broken into four acts, revolves around a boy named David who meets a girl named Veronica, and together they plan an act of violent protest. The protest, though, leads to the girl's death, which forces David to live with incredible blame and guilt. It's operatically tragic in story and operatically epic in scope.
While the literary aspect of the record is enough to cement it in the pantheon of great achievements (I haven't even touched on the issues of reliable narration and meta-commentary that pop up through-out) there is also, of course, music to be considered. David Comes to Life contains nearly 80 minutes of driving, energetic rock deeply layered and sprinkled with flourishes. Even with the additions of harmonies and acoustic guitars, it's still a punk record.
A narrative with this much intensity requires the rickety aesthetic of punk. Abraham's growling and the band's broken down sound make songs such as "Queen of Hearts" and "Inside a Frame" sound almost like the old school punk of New York City passed, full of passion and bile. The force, anger and energy of the record help with the understanding of the piece. No other genre would go so well with a story of youthful anger and philosophy than the genre created out of youthful anger and philosophy.
Thirteen years ago, Refused released a seminal and defining record: The Shape of Punk to Come. On it, they blended genres, waxed poetic and created an impossible beacon for all other hardcore punk bands to reach towards. No one band has taken the ideas set forth on The Shape of Punk to Come more to heart than Fucked Up, and no band has reached for Refused's greatness more than Fucked Up. David Comes to Life is not easy listening, but like all hard records, it is also one that will be greatly remembered.