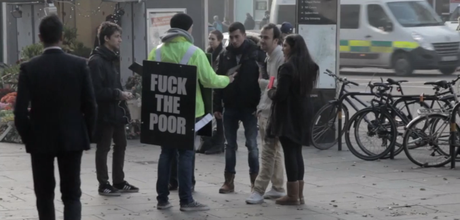 "Fuck The Poor" – Clever Social Experiment By The Pilion Trust
0
The Pilion Trust launched their new and clever but, by some, rather controversial campaign called "Fuck The Poor". The campaign has a message: "We know you care. Please care enough to give.", but you will get it anyways,after you've seen the video.
What they did was, placed a man wearing a sign that said: "Fuck The Poor", on the streets of London. Secret cameras recorded the reactions of people passing by, to this offensive advert. After some time, the man flipped the sign which now said "Help The Poor" and proceeded to ask for donations.  Peoples reactions this time, will actually get you thinking!
Charity(The Pilion Trust) is famous for its efforts to help those in need, so this new and creative campaign does not come as a surprise. Or maybe it does? Take a look for yourself.
Source:
Youtube