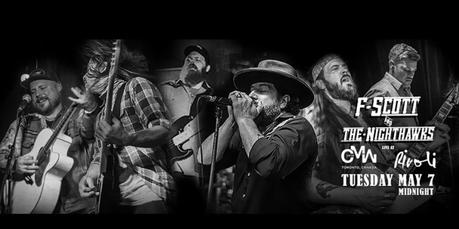 CMW 2019 is finally here! This time around, we've enlisted the help of F.Scott and The Nighthawks, to bring us his Top 5 choices for the festival.
But before we get to the band's picks, we want to tell you a little about F.Scott and The Nighthawks. They're a super cool Toronto band who play Road House Rock. The music has hints of punk and rockabilly, but it's rooted in rock and Americana/Canadian. At times I hear Tom Petty in there, then I'll hear Bruce Springsteen and then something completely unique. They've been playing together since 2016, and the work they're putting in is paying off.
The band is made up of Jarek 'Jerry' Hardy, Justin 'Clarkey' Clarke, Scotty 'B.Goode', Tyson "Killer" Hiseler, Benny "The Bearcat" Arseneau and F.Scott 'Salty Don't' Taylor. Don't they sound fun even before you listen!
F.Scott and The Nighthawks will be playing Canadian Music Week Tuesday night. We think it's a show that you shouldn't miss.
This slideshow requires JavaScript.
F.Scott and The Nighthawks CMW 2019
Date: Tuesday May 7th - Midnight
Venue: Rivoli
Location: 334 Queen St W, Toronto
Doors: 8:00 PM
Concert Type: Club Series
As a Toronto-based band, we feel really lucky to be part of the city's community of bad-ass fans, great artists and lots of generally good folks. CMW is always a highlight; it's a beacon for the coming summer and a fun opportunity to host all kinds of new and old friends alike on our home turf, welcome to Hogtown!
Hope to see you at Rivoli on Tuesday night; Midnight is officially Rock O'clock - we're takin' the night home for a great line-up.
Also hope to see you out there catching the folks from this Top 5 list of shows that aren't to be missed. We're looking forward to sharing stages with them all again or for the first time real soon, and big thanks to The Reviews Are In family for including us in this great feature they've put together.
We had the pleasure of playing with these gems for a bunch of shows that were part of a recent tour we did with League of Wolves. If you're into rockin', they'll leave ya wanting more. They're a hell of a tag-team, we wouldn't steer ya wrong.
Our trusty manager, Shawn Preece-Hall, recently went on a rip with The Standstills as far east as Halifax while they were on the road supporting Monster Truck's recent Canadian Tour. He was already a fan of theirs before the trip and he's got nothing but great things to say about this rockin' two-piece powerhouse. Check out their show and get your hands on their recently released album Badlands, you'll be glad ya did.
The Standstills CMW 2019
Date: Saturday May 11th
Venue: Horseshoe Tavern
Location: 370 Queen St. West
Doors: 7:30 PM
Ticket Price: $19.76 ($15.00 + $4.76 Fees
Concert Type: Concert Series
Whether she's rollin' solo or rockin' with her band, Kate Boothman is an Animal. She won't mind us sayin' so seeing as I Am An Animal is her self-titled debut, and she's got more new music on the way too. Not to be missed, Kate puts on a mighty fine show and we can't wait to play with her again soon.
Kate Boothman CMW 2019
Dirty is right, and we love these fellas! They're hard workin' and hard rockin' great dudes. They were a big part of our trip to Texas this past spring. We saw them rock more sets than any other band, and the gig we played on a huge bill together at Arlyn Studios in Austin may have been one of the finest parties of all time. Come ready to really rock.
Date: Friday May 10th
Venue: Phoenix Concert Theatre
Location: 410 Sherbourne St.
Doors: 8:00 PM
Ticket Price: $40.77 (32.00 + $8.77)
Concert Type: Club Series
We were into these gals' swagger based on the title of one of their tunes alone - Jim, Jack, Johnnie & Jose. And then we watched the video, and then we went to see them rock out live here in Toronto a little while back. Now we suggest you do the same, you'll be in for a good one.
Date: Friday May 10th
Venue: Rock 'n' Horse Saloon
Location: 250 Adelaide Street West
Doors: 6:00 PM
Concert Type: Club Series