New to little Indiana? Subscribe for free to my RSS feed. Thanks for stopping by!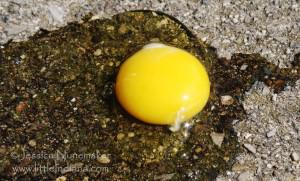 Fry an Egg on the Sidewalk: little Indiana Style
Haven't you always wondered if it was possible to fry an egg on the sidewalk? In case you haven't stepped outside lately–saying it's "hot" is an understatement.little Indiana had to know.
I mentioned it to my "mini me" otherwise known as Kid #1. At first–he thought I was joking! But, once he realized I was serious, he was all for it!
Watch Can You Fry an Egg on The Sidewalk in Indiana on YouTube or below.