Summertime and salads seem to go hand in hand, at least in my mind. I don't just mean your quintessential salad made of lettuce, some cut up veggies and tossed in a boring dressing; I mean colorful, refreshing, creative salads made with all different types of ingredients — pasta, veggies, fruit, beans, etc.
I've already given you a bean salad and a quinoa salad, so now it's time for a fruit salad! This recipe comes from Better Homes and Gardens. My friend found the recipe for us to make for the same girls night dinner when I made my artichoke and white bean salad. 
This is a great recipe to make for any get together, especially during the summer. The refreshing fruit flavors mixed with the zest of an orange and sweetness of sugar snap peas make for a perfect party dish. We made only one substitution, adding in blueberries instead of cashews. The result was delicious! The poppyseed dressing was the icing on the cake, adding just enough taste to the ingredients to bring out the yummy flavors of the honeydew, strawberries, blueberries, sugar snap peas and shredded orange peel tossed in with the pasta. Check out the recipe here.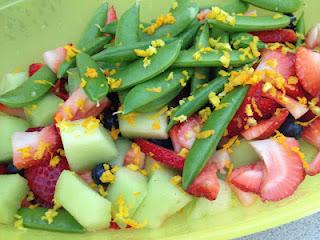 My favorite part of this salad was the honeydew; the poppyseed dressing seemed to complement this fruit best. The nuts would have been a good addition, but my friend doesn't like cashews so we opted against using them. They probably make a nice addition to the salad, though. You need a little bit of salt and crunch to balance out the flavors. I'll use them the next time I decide to make this dish... Summertime parties will (hopefully) be cropping up more frequently now, so I'll have lots of excuses to cook!