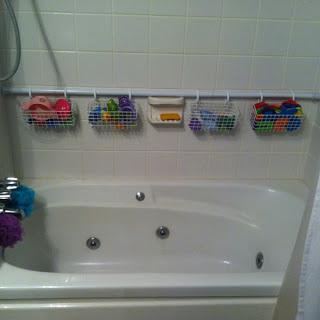 If I had little ones, I would do this one in minute! I even have a spring loaded bar and shower rings on hand, not being used for anything.
Place a spring-loaded shower rod against the back wall of your tub, with wire baskets hanging on shower curtain hooks to organize all those bath toys.
I think any sort of basket would work, either wire or plastic baskets.
When company comes over, just move the rod to the top of the shower to get it out of the way.
Hmm... I wonder what you could store there if there were no little ones in the house? Reading material? Candles? cleaning supplies?
So, who is going to try this one?
Idea and photo credit: pinterest.com/​jander3
All rights reserved
From our Facebook fan page:Hannah Taylor posted:
I love this idea
Tonya DeKruger posted:
Awesome idea!
Angela Bergman posted:
I did this for my own stuff, but I put it up high. My husband was always knocking my stuff off the ledge and cussing every morning. He thanked me profusely
Wanda Hurley posted:
Very clever. Wish I had known 12 years ago.
Stacy Warner Dominguez posted:
Love this!
Alyssa E Snyder posted:
Awesome organizational tool!
Tina Taylor Montesano posted:
So much better than those plastic Frog Pods that create mold. Great idea!
Jowanda K. Wiseman posted:
Trying to figure out how I can make that work in my stand-alone shower
(my whirlpool tub has no walls)
for the grandkids and their 'stuff'
Mimi Langille posted:
Me! I am. That's a great idea
Karla Tiburcio posted:
Great idea. I placed a second rod to dry up the towels or clothes that need to be hung dry
Jennifer Krane posted:
Three kids all under four years old - I am so doing this!!
Trisha Olsen Sisson posted:
I love this!! I's been looking for a solution to all the bath tub toys!!
Amber Law posted:
OMG!! That is by far the smartest thing I have seen in a while! Pretty sure this is my new to do for my to do list!!
Anna Rodriguez Swetman posted:
LOVE IT!!!
Adrianne A. Henderson posted:
This is brilliant!
Michelle Atkinson posted:
AWESOME Going to have to try it!
Jo Hollis posted:
This is great.. those Grandbabies will love it!!!
Janette Bennett posted:
Awesome idea!
Barbara Brindley Shelley posted:
Would be great for all the different shampoos and body products that keep getting knocked off around the tub.
---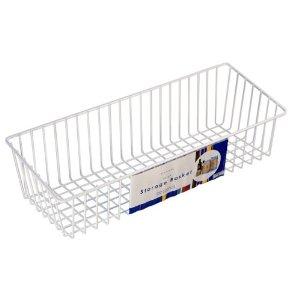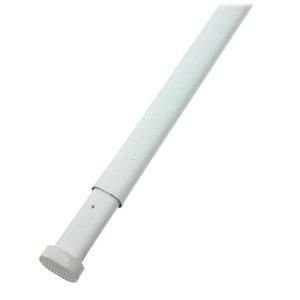 Shopping Suggestions:
• Schulte Large Simple Basket
• Levolor Shower Tension Rod
• Plastic Shower Curtain Rings
• United Solutions Small Plastic Storage Baskets
• Jolly Jumper Bath Tub Toy Bag
NOTE -
If any of the above links are not working or the freebies or coupons no longer available, please post a blog comment below and I'll edit it!
---
◊
Enjoying all the freebies? Want to keep up with the latest free stuff, deals, coupons, and other ways to save money? Subscribe to
Frugal Freebies'
email updates or RSS Feed
! - it's free!
◊
Check us out on Twitter, and join in the conversation of even more great freebies, deals and coupons on our
Frugal Freebies
fan page on Facebook and
Google+. We are even on Pinterest!
More Frugal Blogs and Websites:
◊
Born to Love: All your cloth diapering needs, and much more - naturally! We are strong advocates of the personal, social and environmental benefits of natural parenting.
◊
Frugal Baby Tips: Money-saving tips on diapering, diaper washing, safety, slings and baby carriers, toys, clothing, nursing, menstrual needs, traveling with kids, more!