Funnest. Project. Ever!!! 
So, I know that's not a word - but...that is the best way to describe these awesome drip paintings.  Funnest!!
For the first June project I made these fun little pots that I found at

http://inlieuofpreschool.blogspot.com/2012/05/something-borrowed-rainbow-pour.html

.  My mom had just given me 2 small terra cota pots that she was no longer using and I have more than plenty of paint in my stash.  So this craft cost ZILCH!! 
Should you need to buy any supplies, you can find the smaller pots for appx $0.99 and if you're lucky to have a store like The Flower Factory in your area, you can pick up the small bottles of acrylic craft paint for appx $0.89 each.  Still a super frugal craft!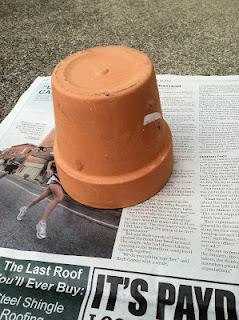 My first mistake lesson learned was to not put items on newspaper that are going to become sticky!!  After dripping the paint on the pot, there was a huge messy puddle of paint on the newspaper - making my pot to stick to it.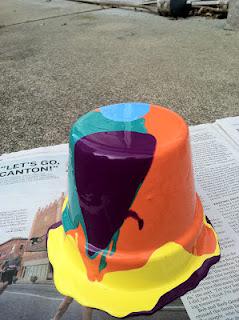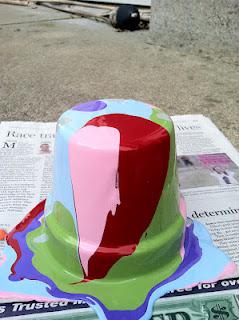 Let the fun begin!!  Using the paint I already had, I started pouring the paint on the top of the terra cota pot.  I definitely used WAY too much paint!!  There are several layers of color that no longer shows! 
With the multitude of layers of paint, these pots took an entire day to dry completely!  My many layers also resulted in some paint cracking - which gave the pots some character.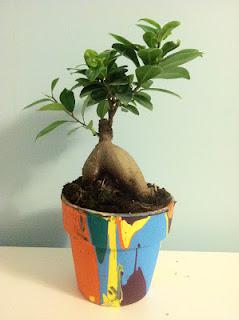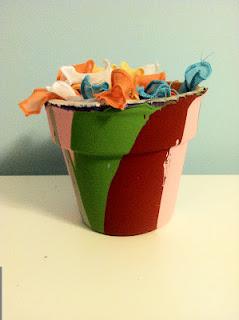 Our finished products!!  Last weekend, Madailein had picked out a bonsai tree she wanted for her bedroom and thought the first pot was just right.  She also thought the second pot was perfect for hair bows, lol!!  This frugal craft is one I will be trying again with various paint colors each time.  I imagine this would be awesome with different shades of the same color.  Hmmm...I think I just thought of my next weekend project! 
Have you tried this awesomly fun and easy craft?  Do you have any frugal craft ideas you would like to share?  I would love to see your ideas!!
Happy Crafting!