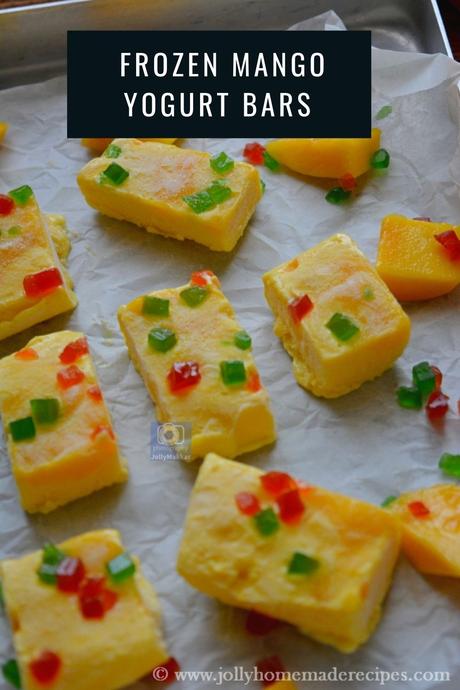 This frozen yogurt bark with mango is the perfect refreshing snack. It's so easy to whip up, healthy and packed with protein. You'll want a batch in your freezer at all times.
This recipe is super simple to make – it's the perfect recipe to involve your kids in. 
Frozen Yogurt Bars Ingredients
plain yogurt – I personally like using full-fat yogurt for yogurt bars because it's thicker and a bit more rich, but you can use regular plain yogurt... if that's all you have and low-fat yogurt  & for my vegans friends can use Greek yogurt.
Sugar or honey – I used sugar in it because my mangoes are not too sweet and if it's not bough sweet you can use honey too. If you want to keep the recipe super low in sugar you can use plain yogurt without sweetening it, but I think it tastes really good with a little maple syrup.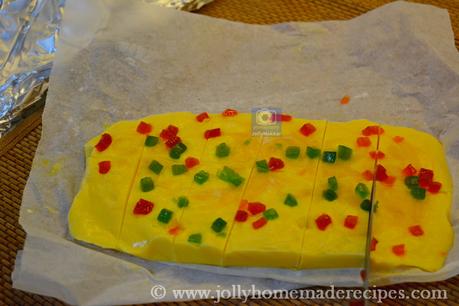 Mango– you can use any fresh mango chunks  you like, but I love the swirls in it, so I use purée for bars and purée to makes swirls inside the bars 😋😀 you can use any fruits of your choice.
Tutti frutti for garnish - you can use anything, it perfectly goes with dry fruits and great going with coconut flakes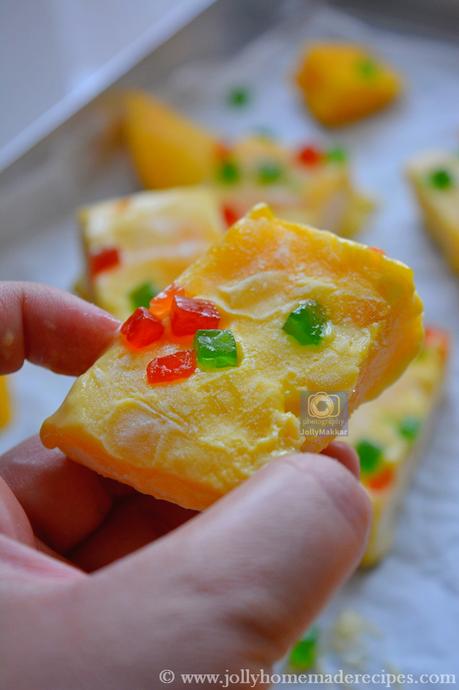 One of my favorite recipes to use to cool off with are these frozen fruit bars. They are so simple to make, and they are better for you than most of the ice cream bars and other frozen treats that you will normally find at the store because they are made with fresh yogurt.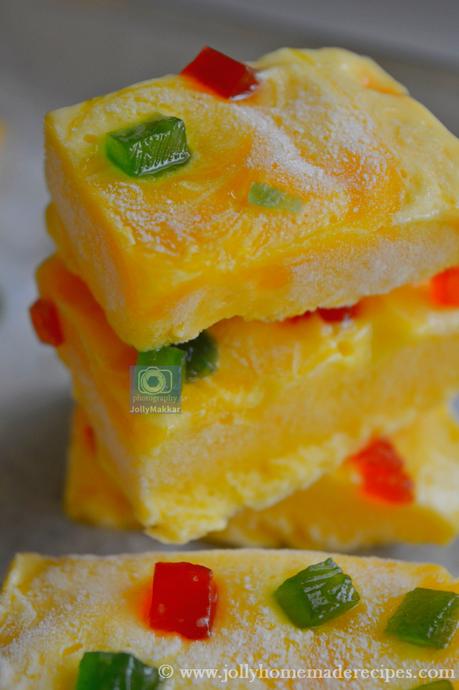 In my family, we all are big fan of ice cream, but as you all know, ice cream isn't always the healthiest dessert option. That is why I decided to replicate some of the fresh ice cream bars into this.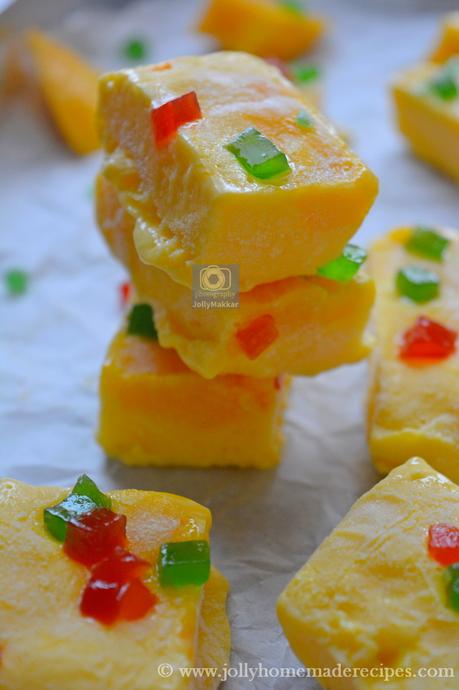 You can use the same mango yogurt mixture into popsicles too, I made that way also but forget to click it.
Prep Time : 10 mins
Freezing Time : 4 hrs
Total Time : 4 hrs 10 mins
Course: Dessert
Cuisine: American, Fusion, Indian 
Servings: 3
Author: Jolly Makkar
1 cup = 240ml; 1 tbsp=15ml;1 tsp = 5ml;
Ingredients:
Mango Puree – 1/2 cup
Homemade Curd/Yogurt – 1/2 cup
Sugar – 2 tbsp (according to sweetness of your mango)
Tutti frutti for garnish/crushed dry fruits – 2 to 3 tbsp
Instructions :
1. Peel the mango, chop the pulp and puree the same. I used one ripe mango. Set aside about 1/2 cup of the puree.
2. Line a cake pan or baking tray with parchment paper. I lined my cake tin with the parchment paper.
3. In a blender, add the puree, yogurt and sugar.
4. Blend it once or twice in the high mode or instead of blending you can use the hand whisk an combine them well. And make sure the sugar is dissolved.
5. Now pour this mix into the cake tin lined with parchment paper. Tap it nicely to the mix until it is evenly spread.
6. Take a 2 tbsp of mango puree, add on top of  yogurt mango mixture and make a swirls on it.
7. Next, sprinkle the tutti frutti or your choice of crushed dry fruits on top and freeze it.
8. After 3-4 hours, take out from freezer and CUT them into your favorite shapes and freeze them again. Or You can store them into zip lock bag for longer time.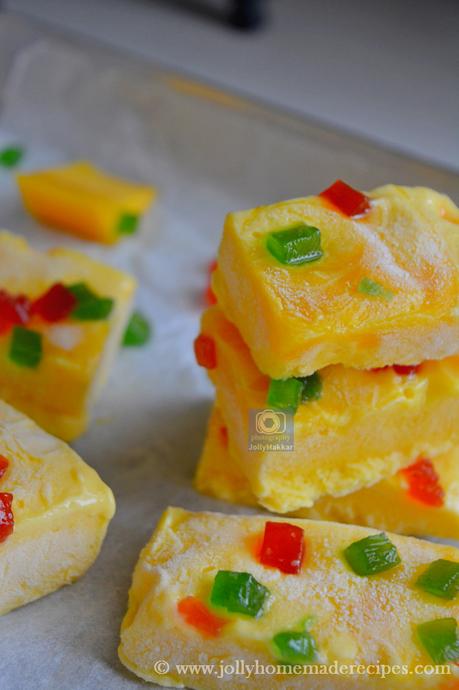 This recipe is a part of A to Z recipe challenge, we choose key ingredients alphabetically to cook and post a dish every month. This month it was alphabet time THE LETTER "Y" so I choose my key ingredients YOGURT and make this easy and HEALTHY MANGO YOGURT BARS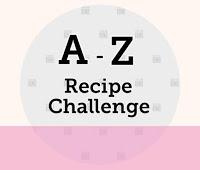 Did you try this recipe? 
Click a picture and mention 
@jollyhomemaderecipes
or tag 
#jollyhomemaderecipes 
in Instagram or Twitter
Subscribe to our 
YouTube 
Channel 
Click here to 
Subscribe
our 
YouTube 
Channel and stay updated with our latest video recipes
PIN IT later for your future use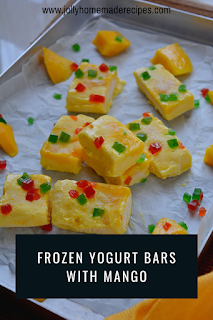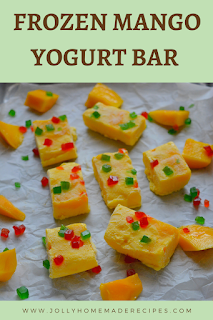 STAY HOME AND STAY SAFE
HAPPY SUMMERS & ENJOY 💗💗