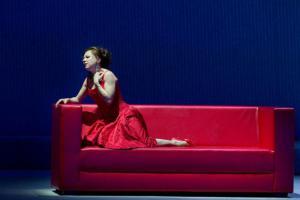 Natalie Dessay in La Traviata (Met Opera)
For a birthday present, my daughters gave me tickets to see the Live in HD showing of Verdi's La Traviata at one of our local theaters. Similarly, I used a gift certificate my brother had sent me to purchase a Blu-ray Disc of the latest movie incarnation of Leo Tolstoy's tragic heroine, Anna Karenina, with Keira Knightley and directed by Joe Wright.
Two fallen women, two sisters under the skin – a lucky draw of the cards I simply could not overlook, although I intend to comment on Tolstoy's epic at a later date.
The Live in HD transmission was a rebroadcast of an April 14, 2012 presentation of Traviata starring French soprano Natalie Dessay as Violetta Valery, American tenor Matthew Polenzani as Alfredo Germont, Russian baritone and Verdi specialist Dimitri Hvorostovsky as his father, Giorgio Germont, and principal conductor Fabio Luisi leading the Metropolitan Opera Orchestra and Chorus.
La Traviata came from Verdi's so-called middle period. Written almost concurrently with the wildly popular Il Trovatore, both works had their respective premieres barely two months apart, in 1853. They were preceded by another middle-period piece, the lively Rigoletto from 1851. As a result, all three operas share many stylistic elements and tonal similarities, a good example of this being the dirge-like theme in Traviata's Act III finale that sounds suspiciously like the Miserere from Act IV, Scene i of Trovatore.
What makes Traviata so engrossing for modern-day audiences is its reliance on flesh-and-blood characters, all of whom were derived from actual individuals, as relayed by Alexandre Dumas fils in his semi-autobiographical novel and play, La Dame aux Camélias ("The Lady of the Camellias"). The real-life protagonist of these pieces, Marie Duplessis, was a member of the hedonistic demi-mondaine of Paris, which Dumas was familiar with. The play accurately (if somewhat fictionally) renders the events of his affair with Duplessis in dramatic fashion. Its popularity eventually grew to become the sumptuously filmed Camille (1936), with lovely Greta Garbo (renamed Marguerite Gautier) as Marie, young Robert Taylor as her lover Armand, and crusty Lionel Barrymore as Armand's father.
Another startling happenstance was Verdi's operatic treatment of the subject. Long before Traviata was conceived, the composer had engaged in his own well publicized affair with former singer Giuseppina Strepponi, who had earlier appeared in various Verdi works. Verdi dared to live openly with the ex-star of La Scala, which scandalized the populace to no end. Poor Giuseppina was habitually ostracized wherever she went, but Verdi refused to bend. Having given birth to several illegitimate children by previous lovers, Strepponi gave several of them up for adoption, with Verdi becoming directly involved with their placement in foster homes. To top it off, he had a little fling on the side, allegedly with Austro-Hungarian diva Teresa Stolz – all of which is fully documented in Verdi: A Documentary Study, Mary Jane Phillips-Matz's monumental history of the composer's life.
Verdi went on to legitimize his relationship to Strepponi, who became the second Mrs. Verdi in 1859. Incidentally, she maintained a respectful friendship with Stolz even after her husband ended the affair. This brief background history, then, is basically a lead up to the main event: mainly, that Verdi certainly felt, and experienced great sympathy for, the forlorn Violetta by the time he got down to actually writing La Traviata.
A Brilliant Performance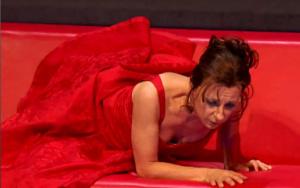 Natalie Dessay in Act III (Met Opera)
I found this version of Traviata (translated as "The Wayward One") riveting from beginning to end, to which I give full credit to the brilliant Mme. Dessay. The concentration and intensity she demonstrated as the fallen woman Violetta was a testament to Dessay's professionalism and dedication to her art. Despite a recent cold, Dessay managed this feat of theatrical legerdemain by carefully husbanding her limited resources, and by molding her lyrical statements to suit the dramatic purposes of the plot.
In short, Dessay did what only the greatest artists are capable of doing: she convinced us that she was the achingly put-upon Violetta, not only making the role her own, but shining a beacon of light on the character's hopeless plight, thus illuminating the tragic circumstances surrounding her life, yet treating Violetta with the sympathy she so richly deserved – without undue sentiment – in as matter-of-fact a way as possible.
I happen to own the DVD of Russian diva Anna Netrebko's first performance of Violetta, from the 2005 Salzburg Festival, in this same production of German director Willy Decker's deconstruction of the opera that, quite literally, made Mme. Netrebko an international sensation. Her Violetta, while vocally thrilling and flamboyantly acted, lacked something of the spark of inspiration to truly ignite her performance. That's not to say it wasn't a bold undertaking; only in juxtaposition with Dessay's own assumption of the role did Netrebko leave something to be desired.
As some readers may know (but others may not), Decker's stripped-down, bleakly cold setting (a single corrugated wall unit, no intermission between the acts, very little color except for Violetta's red dress) wisely makes Violetta the focus of the drama, which is as it should be. Not only that, but every character and scene in the opera, including several set pieces (specifically, the Act II choral sequence where the ladies are supposed to be dressed as gypsies and the men as matadors; and the Carnival interlude in Act III after Violetta's mournful "Addio del passato") revolve around the protagonist's dilemma and subsequent tragedy.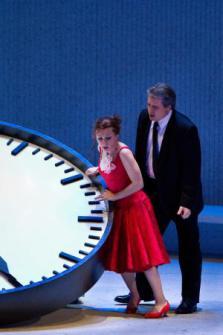 Dessay & Matthew Polenzani as Alfredo (Marty Sohr / Met Opera)
To spell things out, the tragedy involves an illicit affair with a young man named Alfredo, who falls for the courtesan (a high-priced call girl) at a mutual friend's dinner party. Confessing his love to Violetta, the enamored lad is encouraged in his advances by the obviously flattered lady. They then decide to live together without benefit of wedlock, which at the time of the opera's premiere was considered positively indecent. Alfredo's father, Germont père, visits Violetta and succeeds in getting her to give up the boy and go back to her former life, by using his own daughter's pending wedding as an excuse.
Violetta makes the ultimate sacrifice, but Alfredo is not told the real reason for her abandonment. Later, he erupts into a fit of jealous rage at another dinner party, offending and ill-treating Violetta in front of her friends. This leads to a duel, which Alfredo survives, only to be told the truth from his dad. Alfredo rushes to Violetta's side, only to have her die of tuberculosis.
Except for a brief interval (the elder Germont's confrontation with his son, and the start of Act III), in this version Violetta is onstage constantly. So is Alfredo, who appears in scenes he would not normally be featured in. These are certainly debatable directorial choices, but the end result is that both characters come across as fully rounded personalities. The despicable Alfredo has a perfectly justifiable reason (in his own mind) for throwing that second act "temper tantrum" – as reprehensible an action as any I've seen in the theater. Taking his winnings and stuffing them under Violetta's dress and into her bodice, Alfredo is denounced by his father for his callous cruelty. It's an absolutely devastating moment, which both Dessay and Polenzani played to perfection (Polenzani drew a fair amount of sweat for his strenuous efforts, too), making Alfredo entirely unsympathetic in everyone's eyes – everyone, that is, except Violetta, who cries to herself, "Alfredo, Alfredo, how could you understand all the love that's in my heart? How could you know that I've proved it, despite your contempt?"
And Now, On to the Singing
As gorgeously sung as Netrebko's Violetta undoubtedly was, the heart and soul of this Traviata was definitely Dessay. Sleight of stature but big of talent, Dessay used her petite frame to generate an immense pity for the pathetic little creature. Natalie has been at the forefront of her art for nearly 20 years. While her voice has diminished in size and undergone some changes (about a decade ago, she experienced vocal problems that necessitated surgery), her dramatic skills have taken a huge leap forward – the result of which is the most compelling and fully realized portrait of Verdi's misunderstood heroine I have ever seen. I doubt there will be another such performance of this role in my lifetime, and in quite this same manner – and that's saying a lot.
Although Dessay's voice is not exactly what we've come to expect from past Violetta's (the lighter-voiced Bidu Sayão, Ileana Cotrubas and Roberta Peters, however, have done wonders with the part), she was ideally cast and the center of everyone's attention. Her coloratura was free and agile, although at this stage the voice lacks sufficient volume to overcome the vastness of the Met's auditorium. This is not to downgrade Dessay's performance, only to comment on any HD transmission, which can never be a proper substitution for being in the theater.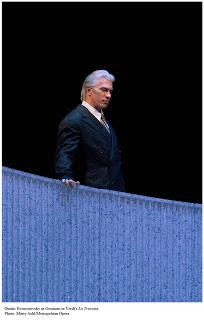 Dimitri Hvorostovsky as Germont (Marty Sohl /Met Opera)
Papa Germont, sung by Dimitri Hvorostovsky, was elegantly performed – perhaps a shade too elegant. He is played much less sympathetically in this production than in others I've seen, however Dimitri's long line and endlessly spun legato were a pleasure to hear, the manly weight and timbre of his voice bringing a much needed bite, and welcome respite, from Placido Domingo's later turn in the role, a performance I did not find especially pleasing – see my earlier review (http://josmarlopes.wordpress.com/2013/04/14/salad-bowl-italian-opera-style-continues-with-la-traviata/). Hvorostovsky proved, at least in this performance, that he still possesses extraordinary breath control and agility.
Matthew Polenzani's Alfredo began and ended well. His singing had a quicksilver sheen to it, the top notes ringing out thrillingly and fluidly, while his voice had a slight edginess to it that bears listening to for possible heavier assignments (as of this writing, he's gone on to conquer the lead parts in The Tales of Hoffmann and Werther). Captured last year before his significant weight loss, Polenzani nevertheless resembled Hvorostovsky in hairstyle and deportment (both men are tall). One could believe that this was a younger, awkward incarnation of the older man; hence, their relationship as father and son proved much more believable.
This is important, since they both dress in darks suits, white shirts and ties, as did virtually all the minor characters and chorus members – with the exception of Adina the maid (excellently sung by Maria Zifchak, a marvelous comprimario with a lush tone and dead-on enunciation), and the second Dr. Grenvil, played by Luigi Roni as a Grim Reaper in black leather coat, white hair and beard. One critic thought he resembled Verdi himself, but I'm not sure that was Decker's plan.
Maestro Fabio Luisi led a masterly performance from the Met Orchestra, the strings open and soaring, a heartfelt performance that went direct to the crux of the story. The woodwinds delicately traced Violetta's sad trajectory and downfall, leading to her final sorrow and onstage death from consumption (tuberculosis, the so-called "artist's disease").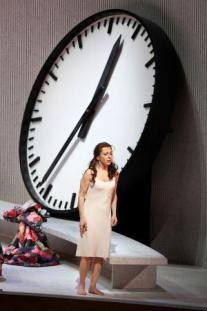 Natalie Dessay in Act III (Met Opera)
When Mme. Dessay came out for her solo bow, soon after the curtain fell on her ultimate demise, she was visibly wiped out – emotionally and temperamentally. The strain of performance showed on her face. In tribute, the Met audience gave her a standing ovation, a well-deserved honor for her stunning portrayal of a fallen woman.
(To be continued…)
Copyright © 2013 by Josmar F. Lopes