There's only way way to enjoy Borneo and that's to get as close as possible to nature. You need to get out there, walk through her jungles, spy on her wildlife, cruise on her rivers and look at her beautiful scenery. That's exactly what we did on our second day in the Demai Beach area.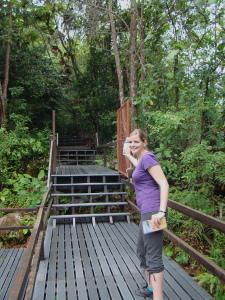 We knew one of the things we had to do in Borneo was go on a jungle trek no matter how short it would be. Our second day staying at the Demai Beach Resort provided us with a great opportunity to take a short (yet sweaty) hike through one of Borneo's amazing rain forests. The path was in walking distance from our resort along a small highway. Once we got there we had to pay a small fee, check in, and we received a small sticker.  I guess they were afraid you might get lost. Which you might have if you took the long hike up a large hill, but we decided to take the shorter route through the jungle along the rain forest floor, on walkways and along a canopy.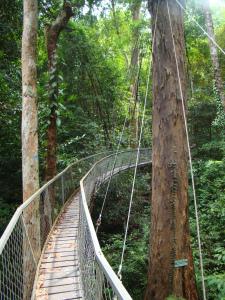 The path was well marked with markers indicating how far you had walked. There were trees with blue paint on them in between these markers, for you to follow to make sure you didn't venture off into the wild. There weren't a lot of obstacles to overcome, but once we had to duck under a fallen tree.
We didn't see a lot of wildlife on our hike. There were no monkeys to be seen and no exotic birds. We saw one reptile and a few large insects. There were also many colonies of ants. At one point we saw a line of ants walking along the ground and then up into a very tall tree. There must have been thousands of them walking together.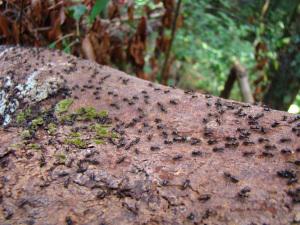 We saw more wildlife that evening on our river cruise with CPH Travel. This tour company provides many opportunities to get out and enjoy the great outdoors of Borneo. The tour guide picked us up at our hotel and brought us to the boat where we met up with the rest of the tour group. There were more fellow Canadians there and people from Europe. As we made our way up the river, the guide gave us all great information on the area and on the animals that we would be seeing. The animals, of course, were the main event of this boat ride. The first animal that we spotted was an Irrawaddy dolphin. These dolphins are unlike other dolphins and it is difficult to get close enough for a decent picture. The picture below is the only proof I have that I actually saw one.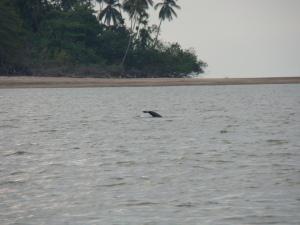 The second species of animal we saw was the proboscis monkey. These monkeys are famous for their long and floppy noses. The proboscis monkeys we saw were hanging out in the tall trees along the riverbank right before sunset.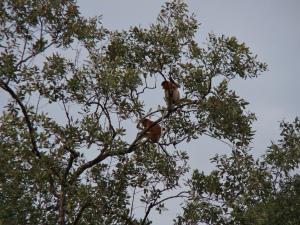 After seeing the monkeys we made our way further up the river to see the last animal of the evening. We had to wait until it was pitch dark to see the fireflies. We sat in the boat beside the riverbank as the boat personnel flashed their lights on the trees in the nearby trees. Once they did this the fireflies lit up. One firefly made its way onto the boat and stayed on the ceiling of the boat all the way back to the dock.
We are proud to say we got to experience some of the beauty of Borneo. We got to stand in her rain forests and admire the tall trees and we got to travel up one of her rivers and spy on her wildlife.
What's the most beautiful place you have been to?
Want to see more pictures and videos? Then go ahead and click here.