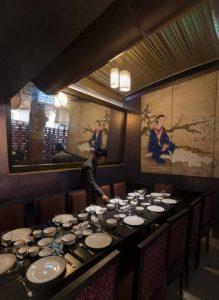 Rather from sassy desserts to very sassy choptsticks – because the place where the hugely popular once stood is now House of Mandarin. Well, Bandra now has one more place to satisfy one's craving for Oriental Cuisine. So, what sets this one apart from the rest? Well, for a start, the décor doesn't scream "Hey, I'm Oriental". It is gentle, rather genteel and subtle, quite classy. I liked it.
A few days ago, at a tasting at The House of Mandarin, upon entering the place and bumping into familiar faces, the vibe I got was of warmth and easy paced dining – a place where a whole bunch of friends gather for good food and conversation, a place where the family gets together for a wholesome but classy meal – oriental style.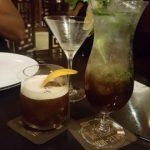 In-house mixologist, Pranav Mody, took charge of explaining the cocktails to Suprio and me, must commend the passion and energy with which he walked us through the beverage menu.
Yin & Yang
with it's Vodka base mixed with triple orange liqueur, got me started in happy mode for the evening.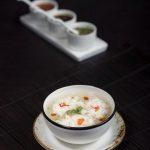 My
Hot & Sour Trumpet Mushroom Soup
had uncluttered clean tastes – the consistency was right and left no heavy sour spicy aftertaste on the palate – a commendable feat in itself.  Suprio's
Spicy Crab Meat Soup
was even better – simple wholesome flavours, none of it overwhelming, none of that trying-too-hard aspect. The
Raw Papaya Salad
didn't work for me though.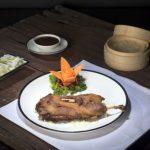 Among the appetizers, the
Aromatic Crispy Duck
is what I'd recommend. At first look, I thought the duck would be dry. I was wrong –
the rolls turned out nice and moist and we ate quite a few
. I am yet to find the perfect duck in Mumbai, but the House of Mandarin is definitely serving one of the better ones.  Among the other appetizers we tried, the
Edamame and Truffle Dim Sums
were quite good too.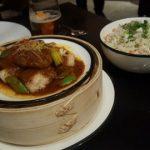 I must say that the drinks were many notches higher than the food
. This was reinforced when our
Steamed Red Snapper in Sesame Sauce
arrived. The expectation was that the steamed fish would be served whole –that didn't happen, but  the fish was a nicely done main which went well with the rice.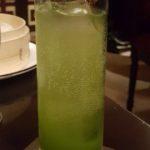 My
Shaolin Monk lived up to its name
– Vodka, Gin, Tequila, Old Monk, Triple sec, Citrus Mix and Cola were mixed just right, not too sweet, and I loved it! The mocktail,
Jade
, was one which took us by very pleasant surprise with its strong and distinct flavours – muddled basil, star anise, black pepper, sea salt – each one could be tasted loud and clear through the fizz.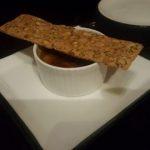 It would be interesting to see how House of Mandarin positions itself in a reasonably saturated Oriental food segment. The food menu is interesting, the drinks are truly the star.
We at Mumbai Food Freaks with Rachel Goenka, Founde​r​, House of Mandarin, all the best for a journey set for stealing hearts through the taste buds.

Address:  House of Mandarin
Classic Corner Building (Next to Holy Family Hospital)
Hill Road,
Bandra West
Mumbai, Maharashtra 400050
Telephone: +91 86555 55555, +91 91567 00000
Timings:   Lunch- 12 pm-3:30 pm, Dinner- 7 pm-11:30 pm
Average Cost for 2: INR 2200 (plus taxes)
Disclaimer: This review was done on an invitation from the restaurant. Due judgment and care has been applied by the author to remain objective and unbiased in the review, but readers need to consider this review keeping this fact in mind.