The 'Beast from the East' sent us a hint of snow to wake up to, here on the Fylde Coast.A more substantial 'white out' further inland caused the closure of schools and brought transport to a full stop. Such extremes rarely reach us, but even so, I keep a well-stocked larder of tinned and packet food in case we can't get out. I am the first to agree that this is hilarious, considering that there are two shops a very short walk away and we usually have our weekly groceries delivered. In my defence, I have explained to the mirthful ones that it isn't only the weather I'm prepared for, but illness and disability as well, even though we live in a neighbourhood and not miles from anywhere in the far reaches of East Siberia.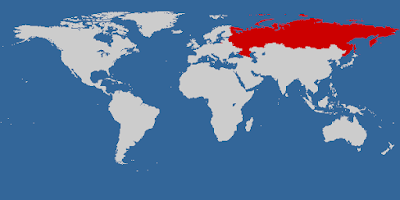 I think I'd like to visit Siberia. I don't know where it figures on the tourism market but it looks interesting.First we'll tackle Scotland next week. Hopefully it will be warmer than the -50 Celsius that Siberia has been experiencing.
When I was a child I picked up on things called 'The Cold War', 'The Iron Curtain' and 'Eastern Bloc'. It was nothing to concern me, I was far too young to understand, but I was old enough to sense solemnity and worry myself about it to the point of nightmares which baffled my mother. It came from news bulletins, rather than adult conversations and affected me so much that I avoided having the news on as much as possible when my children were young.
Years ago, a work colleague was going on holiday to Moscow. She liked unusual places and always went on her own. It is fair comment that she wasn't popular at work and those of us that had to put up with her hoped she might not be allowed back into the UK, the naivety of our youth. We didn't get our wish, of course. She sent a postcard saying simply, 'From Russia, with love'.
As a football fan, I hope that this summer brings something else home from Russia, the World Cup.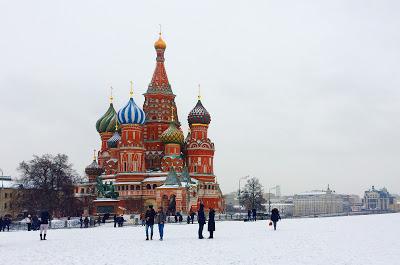 One of my favorite poems:
I Loved You (Ya Vas Lyubil)
I loved you; even now I may confess,
Some embers of my love their fire retain;
But do not let it cause you more distress,
I do not want to sadden you again.
Hopeless and tongue-tied, yet I loved you dearly
With pangs the jealous and the timid know,
So tenderly I loved you, so sincerely,
I pray God grant another love you so.
  Alexander Pushkin, 1799-1837
    Thanks for reading, Pam x 
Email This
BlogThis!
Share to Twitter
Share to Facebook
Reactions: