This is the weekend edition of TheMarioBlog and will be updated as needed. The next blog post is Monday, Oct. 1
Purchase iPad Design Lab here: http://itunes.apple.com/us/book/ipad-design-lab/id565672822?mt=11
"iPad Design Lab" trailer on Vimeo.
Rethinking the way we write, edit and design
TAKEAWAY:  What does it take for a person trained as a print journalist and designer to engage with a fully digital, non linear platform?  I learned some lessons while writing iPad Design Lab: Storytelling in the Age of the Tablet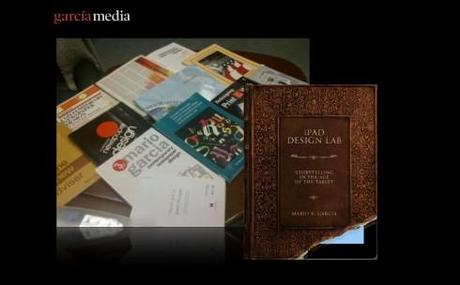 The first 12 books I published were all printed in traditional style.  Book #13, which premiered Thursday of this week, is my first digital one. It was a challenging and rewarding experience, with a high learning curve
First, thanks to all of you who are writing me very warm messages expressing your enthusiasm for my first digital book, iPad Design Lab: Storytelling in the Age of the Tablet.
(Thanks also to those of you in some parts of the world who have not been able to download the book via the iBookstore.  We are aware of the problem, and, the good news is that we are now diligently working on an EPUB version of the book that will be global in scope.  Will let you know the moment you can access it.)
I smile when I see notes from some people "of a certain age" who ask me what it felt like to write for this new digital platform that is the iPad, after years of writing traditional printed books.
I must describe the experience as a combination of fun discovery with a bit of trepidation, along with the excitement of seeing the extent to which we could enhance a story on this marvelous new platform.
For me, the writing of a digital book was, in itself, an exercise in realizing what journalists in traditional media must go through presently as their craft undergoes tremendous transformation.  The majority of journalists in newspapers and magazines today are still "print people".  It will probably be a good ten years, or more in some places, before we begin to see the emergence of the complete storyteller—the person for whom telling the story in various ways to adapt to different platforms is the norm.
Until then, we definitely have journalists (and designers) who are thinking of how the story translates to print.
They are thinking words on paper, images on paper, the static more than the animated.
The iPad demands animation.
So, for someone who, like me, wrote 12 books in the traditional mode, the learning curve was high while writing this book.
Some highlights:
I learned that not every story needs to be told through words. There is now audio, video, photo galleries and graphics.  This was not easy to grasp.  What came naturally to me was to sit down and write my thoughts.  But, my copilot, Reed Reibstein, who edited and designed the book, was there to remind me when a sequence should be presented via strategies not necessarily words.
I learned about the rhythm and pacing that is so necessary when designing an app, or a digital book.  Forget the idea of long chapters.  Instead, break the chapters into easy to digest chunks, mini stories within the larger story.  Some "chapters" of the book have as many as five sections.
In the era of Twitter and Facebook, short takeaways are important.  A large segment of the audience for this book will be, hopefully, college and university students.  Each segment has a takeaway that summarizes what is to be covered in that unit.  For purposes of reviewing the material, these takeaways should be a logical way of presenting key points.
Just as I suggest to editors and designers with whom I work, that one should outline an app the same way that a film director plans the scenes of a film, we wanted to make sure that this would not be a linear experience.  The chapters and segments offer a variety of storytelling techniques: there are sequences of videos, image galleries to flip through, but also interviews with experts, presented differently from my own narrative.
And there has to be the ability for readers of the book to expand on their knowledge by tapping on a link that takes them to additional information, as there are also ways to read defiitions of terms I am accustomed to using in my presentations and blog, but that may be new to readers of the book.
In essence, I learned that the experience of presenting information is fundamentally non-linear on the tablet, and I have translated that experience to the making of the book itself.
I remember that when I first started writing this book, I always thought there should be a printed edition.
After writing the first three chapters, and seeing how Reed had placed them within the context of material to be read on the iPad, I knew that I would not pursue print for this material, a decision that I do not regret.
That, in itself, reminds me that our effort was a total immersion in writing for the new digital platform that is a tablet.  It is that which I hope will serve as inspiration and reassurance to all those editors who are trying to make the transition. 
My only regret about NOT having a printed version of the book: how do I sign copies of the book for those who like the author's autograph?
I am thinking about a solution for that! Any ideas?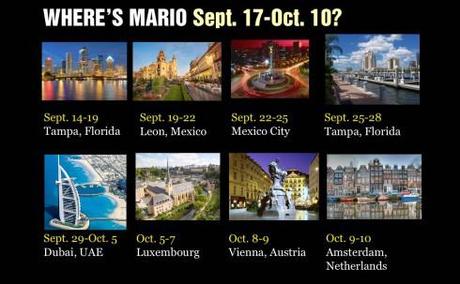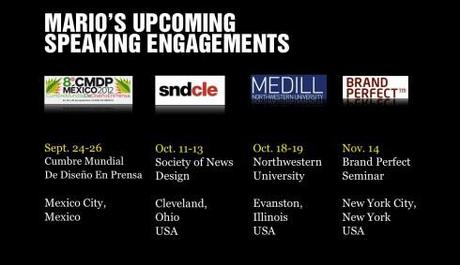 1st Middle East News Design Conference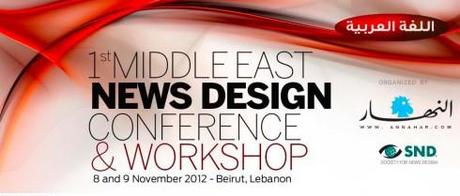 It promises to be a great program, and a historic one, too: the first SND Middle East gathering.  Put it on your calendars: November 8 & 9, in Beirut, Lebanon. Sponsored by An-Nahar and SND.

For more information:

http://www.snd20events.com/conference/
TheMarioBlog post #1106