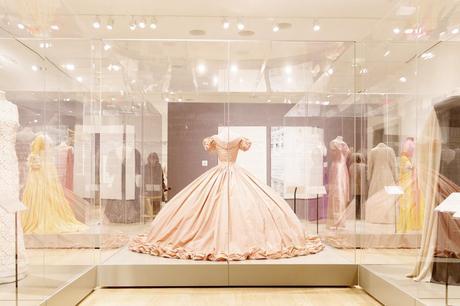 For the centenarian celebration of Monaco, Grace Kelly, the American actress turned Princess of the principality, wanted to wear a historically themed garment. Arriving at the Monte Carlo Casino for the fete, Kelly wore exactly what she intended – a mammoth ball gown with a massive crinoline underneath (pictured above). Two weeks ago and on an arctic Saturday, I saw this dress and forty two other Kelly garments at the Michener Art Museum in Doylestown, Pennsylvania.
So very poised, Kelly captivated an audience on 2 continents. Born in Philadelphia into an Irish family, Kelly was a local girl who made is good. In less than five years, she reached the height of Hollywood success, winning the 1954 Academy Award for Best Actress for "The Country Girl." Then, in 1955 and while she was in France for the Cannes International Film Festival, Kelly was invited to a palace in the nearby country of Monaco after the magazine Paris Match arranged a small get-together. At the time, she had everything, except for love, and Prince Rainer III, ruler of the city-state, gave her a reason to leave her former life behind. Shortly after meeting that night, Rainer and Kelly wed at an event that harvested 1,600 reporters and photographers and a weeklong, countrywide celebration. Their nuptial was called "the wedding of the century."
Most of the clothes on display were not as grand as the centenarian gown, but they came close. For a gala the evening after her wedding, Kelly wore a beaded, embroidered, white dress designed by Lanvin. Other garments included  dresses, skirt suits, jackets, and coats by famed designers such as Yves Saint Laurent, Givenchy, Marc Bohan, and Christian Dior. And you can gasp as this fact – Kelly wore clothes more than once; she was "as loyal to old clothes as to old friends."
Grace Kelly is not just a public figure to me, but someone I know through association. My grandfather's and Kelly's parents were best friends. Jim Flanigan, my great grandfather, was Jack Kelly's campaign manager when he ran for mayor of Philadelphia. Our family's were so close that a few members of my family attended the wedding. Because of the connection, I constantly hear stories about their lives together whenever Kelly's name comes up in a conversation. When I told Mimi, my grandmother, that I went to the exhibit, she said, "Grace's older sister, Peggy, was really the prettier one, but she wasn't into theater like Grace." Only a grandmother would say that!
My departing thought was that the clothes from the exhibit were so similar to the ones in her films. If movies are fantasy, then Kelly's was a star who lived the idyllic live in the real world.