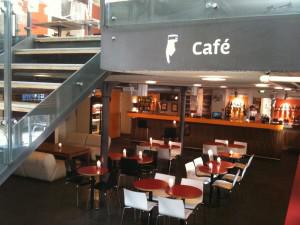 While it may not be one of the first countries to spring to mind when you think about beer, Denmark is steeped in beer culture.  Although wine and other cocktails are certainly available, when you look around at tables at bars and restaurants, beer is clearly the most popular beverage.
Traditionally, there were two types of beers: white beers (which interestingly enough, weren't white, but were called white as they used lighter malts), and dark beers, which were much smokier (as the malts were dried over the fire).  Both types of beer were very low in alcohol, and although very well established as traditional Danish beers, are not very popular today.  Due to its proximity to Germany, Denmark's modern beer styles are brewed closer to the German tradition.
Over the last forty years, especially, that beer culture has been relatively dominated by the Carlsberg Group, which owns both its namesake as well as Tuborg, another well-known label.  Over the last 10 years, however, in an attempt to both continue the Danish brewing tradition, as well as expand upon it, over 120 microbrews have popped up throughout the country.
One of those is Nørrebro Bryghus, which has been operating since September 2003.  The owner and brewmaster, Anders Kissmeyer, is a former employee of Carlsberg, who was inspired to open his own brewery after experiencing the burgeoning American craft beer scene of the late 1990s.
Since 2003, Nørrebro Bryghus has been brewing traditional and innovative beers (including one modeled after an anise flavored traditional Danish candy), and like many modern breweries, is also reexamining its carbon footprint on the city.
I met with Kasper Larsen, Nørrebro Bryghus' Ølambassadør (Beer Ambassador), early one morning to discuss his brewery's steps towards a greener business and other energy saving initiatives.  "Initially, we were quite bad at it (saving energy)," he admits, and that inefficiency revealed itself in Nørrebro's bills at the end of each month.
During 2009, in advance of the United Nations Climate Change Conference in Copenhagen, the Danish government urged businesses to cut back on energy usage and carbon emissions, providing tax credits to those which could do so.  Nørrebro Bryghus accepted the challenge and changed the way it did business.  Larsen remembers, "Initially, a lot of what we did was simple stuff, such as turning out the lights in the evenings" and powering down machines when not in use.  This gradually grew into more sophisticated methods such as retaining the "cooling water" used to reduce the temperature of wort (the liquid barley mash), for the next day's brew.  In doing so, Nørrebro reduced its water usage and saved electricity needed to heat the water the next day as it was already much above the temperature of the previous water supply.
Additionally, Nørrebro began using better insulation to limit its energy usage.  The company currently has a certified carbon neutral website and has no plans of stopping its quest for greener and more efficient business.  As a small brewery, cutting costs is important as it enables them to continue to remain competitive in a land among beer company giants and in an expensive city such as Copenhagen every little bit helps.
Most importantly, Larsen pointed out, "Whatever initiatives we take have to make sense from an economic standpoint."
Nørrebro Bryghus website: http://noerrebrobryghus.dk/21/
The Beers:
I tried six of Nørrebro's beers at their pub, all of which were very tasty:
Pacific Summer Ale – Brewed in conjunction with Garrett Oliver from Brooklyn Brewery, this beer had a lot of sweet, earthy flowers on the nose, notably honeysuckle.  It was very light and crisp, and finished sweet, almost not unlike cotton candy.  A perfect summer beer, this was my favorite of the lot.
Woodceller – This beer was a slightly heavier red ale.  It had a musty nose, reminiscent of wet grass.  The hops were very noticeable up front, and it had almost a chewy mouthfeel, slightly creamy.  Ultimately, it was very well-balanced.  A good fall beer for sure, and a close second to the Pacific Summer Ale as far as my favorite.
Porter – I sipped this while Kasper sipped his coffee.  Very smooth chocolate flavors, with a hint of maple syrup flavor.
Little Korkny Ale – This is a big, barley wine style beer.  It was very sweet and syrupy, with a slightly sour finish.  It actually smelled a lot like port.  Certainly tasty, but not made for a summer's morning.  This beer took home some serious hardware at the World Beer Cup, taking Bronze in 2008 and Gold in 2010 in the Barely Wine-Style Ale Category.
Kings County Brown Ale – Modeled after the Brooklyn Brewery's Brown Ale, this beer is a deep, rich brown, with roasted nuts in the nose.  It had mild to medium carbonation, and tasted of lots of roasted barley.
Kongen af Danmark – Very different.  Modeled after a traditional Danish children's candy of the same name, which contains anise seed oil.  Needless to say, this beer tasted like a thicker, carbonated Anisette.  Best if used sparingly, either after dinner as a nightcap or during desert.  Definitely unique.