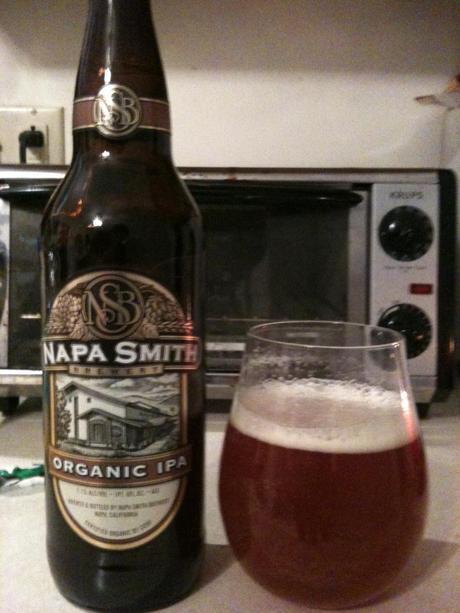 Napa Valley, California is synonymous with wine.  It needs no explanation or description. In fact, I think it safe to say that all who visit Napa Valley fall instantly in love with two things: 1) the last wine they tasted; and 2) the idea of visiting one more winery. Therefore, it takes a lot of guts to use the "Napa" name when creating and marketing a beer.  The Smith Family, owners of Napa Smith Brewery, acknowledge as much on their website.  As cultivators of hops and malt in a valley of grapes, they are a bit out of their element, but not if their beer can stand up to other fine wine and food from the region. 
The Napa Smith Organic IPA arrived in my hands in one of its larger, 22 oz. bottles.  Brewed with organic malts and Cascade hops, it appears to have everything one could want out of a West Coast American IPA.  It poured a reddish copper, with decent head and lacing.  (As you can see in the picture, it retained its head for a while).  What surprised me was that on the nose, I found this IPA to actually be slightly "caramelly," with just a bit more than a hint of piney hops.  It was not very carbonated, and had a bit of a creamy consistency to it.  Up front there was a "mid-bitter" hop taste, mixed with some of the sweet caramel malts, followed by a more bitter, not-quite-overly-citrusy hoppy finish.  At 7.1%, this is not the session beer you are looking for, but it is certainly an enjoyable IPA, as it is not quite the typical "hop bomb" you would expect from a California brewer.  Definitely worth it for the the price ($5-6 per 22 oz bottle).
Overall, this is not the type of beer that will have you rethink what beer can be, but it's a darn fine, easy drinking brew, especially for an organic.  It appears as if the Smith Family is taking a step in the right direction in establishing a beer oasis in the heart of American wine country.
Ratebeer Rating: 3.4/5
Beer Advocate Rating: 3.49/5
Napa Smith Brewery Home Page
[Image by author]