The simple English dictionary definition of

frisson

is: an emotional thrill; (and oh yes, I do have a simple English dictionary...as portable companion to a weightier and more complex tome). However, frisson is a word of French origin, and for our friends across the channel it means a shiver or a shudder.
My challenge, then, is to find out whether a blog - or more realistically the poem within a blog - can induce the thrill of a shiver, shock or shudder in you, gentle readers. We shall see in due course.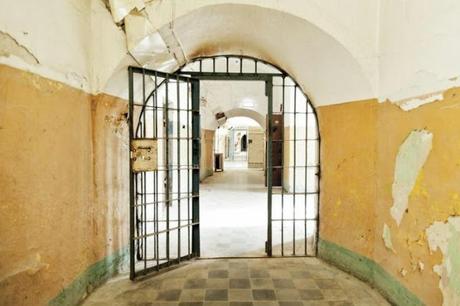 exiting (sic)  times
First, though, there are several reasons why we might be about to experience emotional thrills in the week ahead. Monday sees phase two of the great unlocking in England's green and pleasant. Throw open all the doors. We'll be able to mingle and hug, just not too intensely; drink beer inside a pub, indulge in non-takeaway pizza* and curry, to be enjoyed immensely with friends at leisure and with no washing-up; drop into a cafe for a latte while out on the non-essential shop; and for followers of the Mighty (that's Blackpool FC to you, aka the Seasiders or even the Tangerines), we've got two League One play-off semi-finals to look forward to, with fans being allowed back inside grounds to watch the games. Deep joy.
If, as fans, we want to get dizzier still, there may even be another play-off final at Wembley at the end of the month, for you know what they say: "You can't beat Blackpool at this time of year!" What an away-day that would be for those of us who haven't traveled more than a couple of miles from our homes in a very long time. We dare to dream the tangerine dream.
*Sad footnote to the above: the Pizza Express in the jewel of the north shut during the first wave of pandemic a year ago and has never re-opened its doors. It's now gutted, as am I, for an American Hot and a cold Peroni had been affordable and favorite treats every few weeks since the 1970s. (I've probably consumed a thousand of them and sense a future blog on that score.)
But enough of this wide opening preamble. It's time for some cheap thrills. Here's the poem as promised,  conjured from the darkest quarter of the imaginarium, chock full of sex and death, (eros and thanatos if you'd prefer) and quite OTT.  I'm taking a chance with it, as it's a narrative way outside my comfort zone, so I hope it ticks at least one of your shiver, shock or shudder boxes. Do let me know...
That Long Strange Trip Advisor Poem
State facilities rating (scale 0 through 5):
Staff are more than courteous, I've been
treated like a queen. Room basic but clean, 
bed firm, 
and breakfast to die for.
They offered me a priest but I said
send me the other one in his stead.
They didn't understand. And I only smoke
after a good fuck. Still, a lucky five stars. 
Reason for visit (e.g. business or leisure):
Mercy. Where do I begin, honey?  I wasa teenage stunt cunt for a porn film pimpuntil I married a rich dude; just my luckhe turned out to be another kinky mother.
You any idea how hard a man can get when you put a ligature around his neck and pull it tighter as he shoots his load?One time I figured I'd just keep pulling......his death spasm made my insides flip,and sent a thrill right up my spine. No better feeling, plus I got to keephis bucks. Two years later, different statesame tricks. I was getting a taste for it,rich man, wild sex gone wrong, no blame.
So it went on. I didn't care if his ass waspink, brown, yellow or black just so longas he had money in the bank and hot lustfor me in his heart. Then the Feds beganto join up the dots, got bang on my trailsoon after number five: arrest, trial, jail.Thought I 'd rot in there, but seems not,and that's the reason for me visiting here.Business or leisure? A bit of both, I'd say. 
Additional comments (this part optional):
The Black Widow fries tonight, a hot datewith destiny. I g
uess a lot of white ass 
wants to see 
the ghost of electricity howl 
in the bones 
of my face (thanks Bob)!
My pussy's on the line so I hope they all
come at once. I don't want no limp dicks
witnessing my final coup de grace!
Thank you for completion. Have a nice day.

And thank you, gentle readers. The emotional rollercoaster awaits, S ;-)
Email This
BlogThis!
Share to Twitter
Share to Facebook