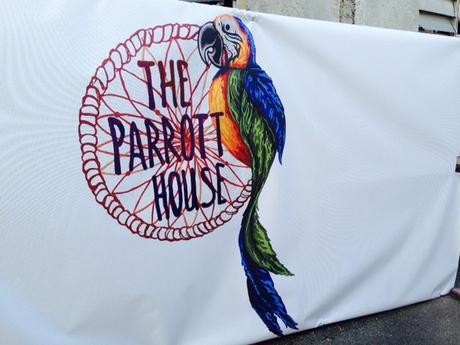 We're midway through summer and now that the detox from the festive season has hopefully finished, it's time to kick up your heels, frock up and rock up to the 2016 Fringe World Festival. Running from the 22 of January to the 21 of February, there's more than enough on offer to satisfy your creative urges with an array of theatre, comedy, dance, music, film, cabaret and even children's events available for your viewing pleasure.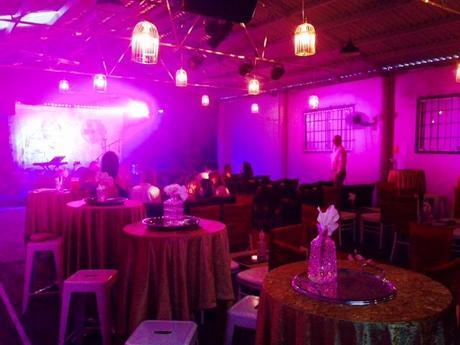 What do you think of when you think of Paris and cabaret? For me, it evokes the memory of The Moulin Rouge, showgirls and an intimate theater where the audience becomes fully immersed in the performance. If you love cabaret and music then the Fringe World Festival's newest venue, The Parrott House has served up the ideal location to showcase the remarkable talent of Cathrine Summers in her show, A Summers Night in Paris.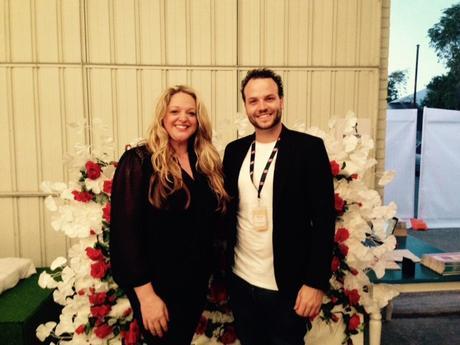 The Parrott House owner Tracey Shaw with managing partner Blake Granston, of GproShaw Events, have created a magical site in an industrial warehouse in Maylands to bring Paris to Perth.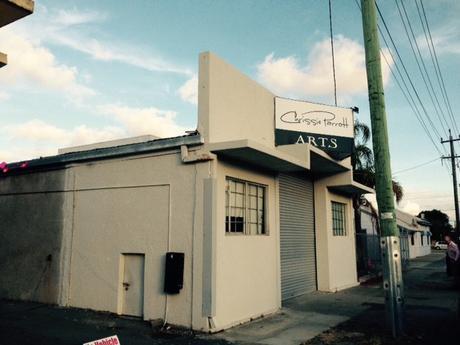 foodie cravings was invited to a pre-show preview of The Parrott House and see Cathrine Summers perform a few days before Fringe World Festival officially kicked off in Perth. Driving to the venue (located at 4 Sussex Street, Maylands), my friend and I were unsure what to expect, as the area is an eclectic mix of suburban and industrial buildings. The exterior of the warehouse doesn't reveal what is hidden behind the plain white and gray frontage, however as you walk down the lane way which is decorated with decorative lights and bunting, you are greeted with a whimsical mix of industrial French flavor.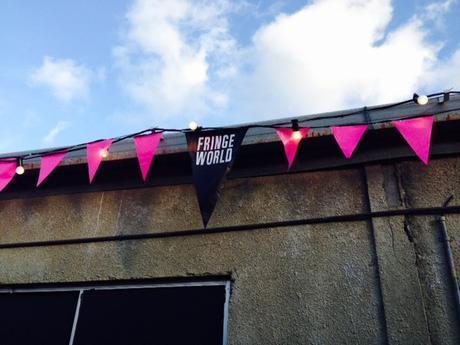 Grab a burger on the way in from the Margaret River Burger Co. with its colourful van to satisfy your appetite prior to the show. Run by owners Chloe and Alex, they offer freshly prepared, homemade style burgers topped with a combination of caramelized onion, greens, tomato and mayo.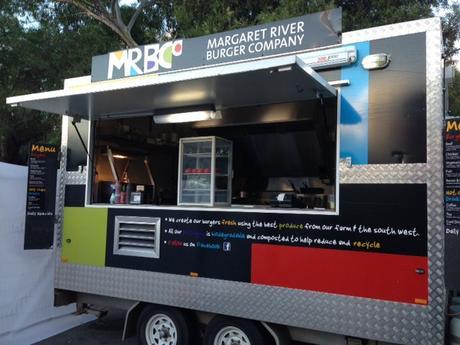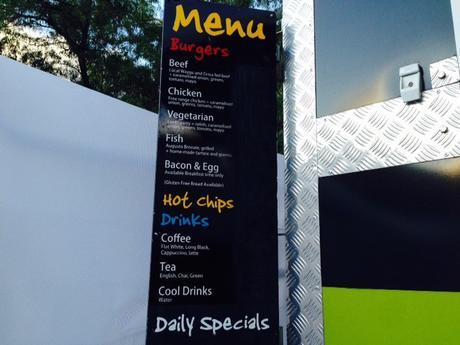 Note: The fish burger is not available for purchase during Fringe.
My friend and I both sampled the beef burger ($13), the bun was fresh and soft and the patty, which is a mix of local waygu and grass fed beef, was juicy and tender. Other options available on the night are free-range chicken ($14), and the vegetarian ($13), which contains a lentil patty.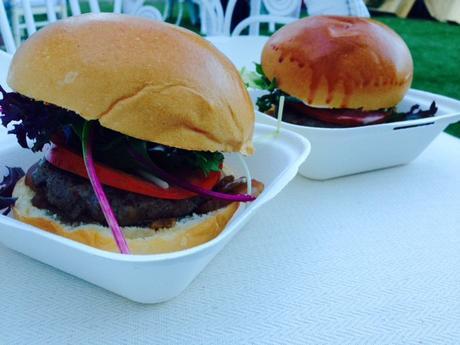 To the right of this is an enchanting area filled with grass, white French provincial style furniture, ornamented with lanterns and vines. A large chess set is set off to the corner. This space is ideal for relaxing with a pre-show drink or chowing down your burger (if you can stop at just one).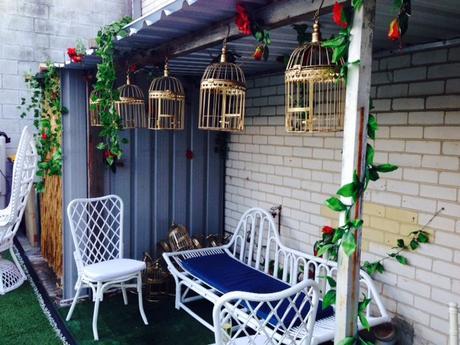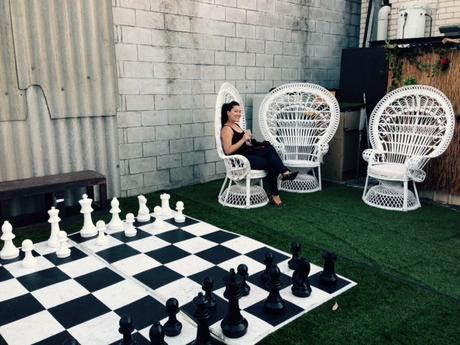 Enter the foyer and the French influence continues. With her distinctive style, illustrations of Pippa McManus' trademark doe eyed girls adorn the walls.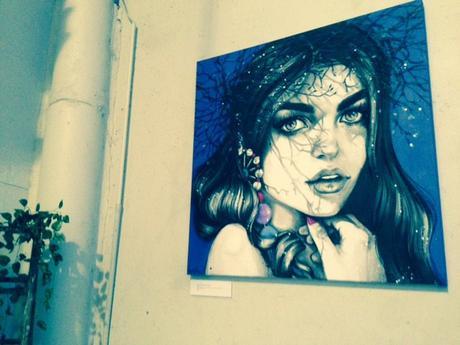 All artwork is available for purchase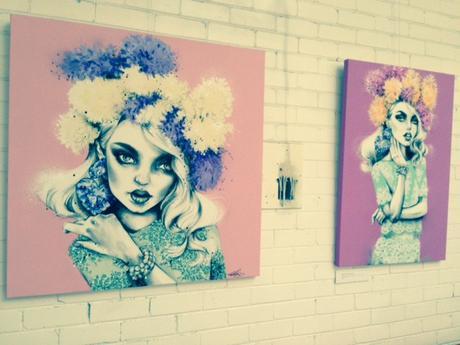 If it takes your fancy, you can park yourself on the bench style seating which lines the wall and take a pick of a beverage of your choice. For a pop up venue there's a surprising amount of variety on offer to cater for everyone's tastes. We drank champagne and sampled the cocktails, The Parrott – tropical flavours, a vodka based drink, the barmen describing it as similar to Sex on the Beach, The Love Bird – A Mix of Berrys, tasted like Ribena.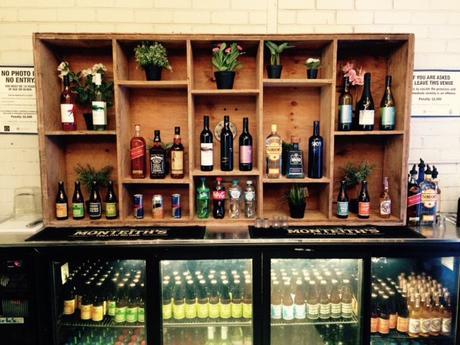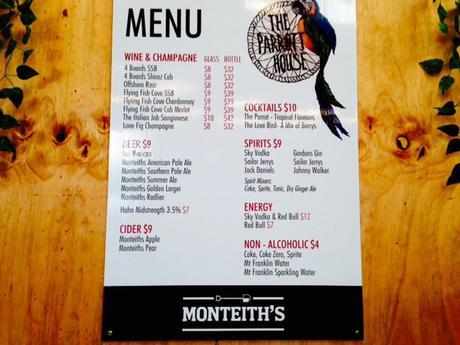 As you slip behind the partitioning, this is where the true magic happens and you become immersed in a smoky filled, intimate space, which allows you to get up close and personal with the performance. This empty warehouse has truly taken an enchanting transformation. Tracey describes the space as being decorated with gorgeous red velvet proscenium with gold fringe and the latest technology in lighting, audio and audiovisual. For those audience members who really want to become immersed in the spectacle, they can be seated on one of the hundred vintage seats that were saved from the Regal Theatre or view the show in the cabaret style seating behind.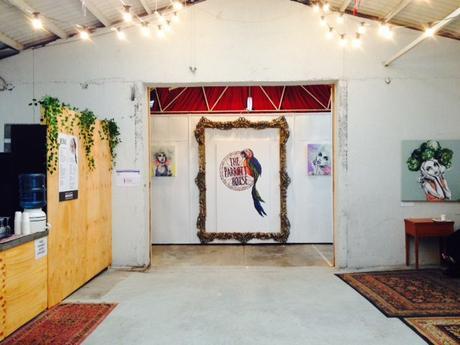 Cathrine Summers is extraordinary and although her show is nearly sold out, do yourself a favour and nab one of the few remaining tickets on offer.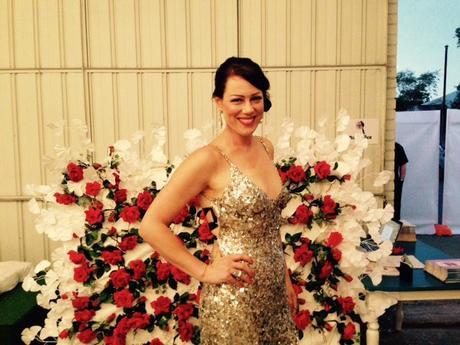 S
upported by a live band consisting of keyboard, drums and double bass with gorgeous showgirls dancing alongside her, Cathrine really impresses with her ability to belt out songs from Edith Piaf, Marlene Dietrich and Cole Porter. She's been acclaimed for her live performances and you become caught up in the emotion of her vocals as she captivates the audience with her charisma and her ability to tell a story through not only her voice but also her stage presence.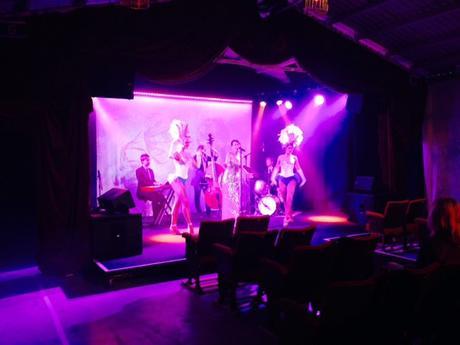 O
ther shows are also being performed at Fringe World Festival's The Parrott House, see http://www.fringeworld.com.au/venues/venue/b36ae8ad-48a4-4bc9-bc30-4b20079bfa69/
for further details or follow them on instagram @theparrotthouse
Disclaimer: foodie cravings was invited as a guest of The Parrott House, see disclosure policy for more details.