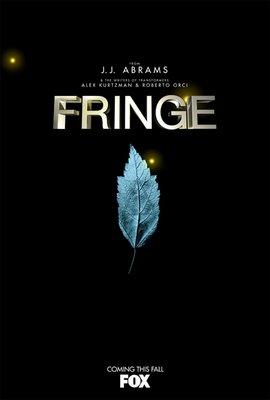 One of many marketing posters used to promote the series featuring a twist on a common image. Pictured is a leaf with an embedded isosceles triangle. (Photo credit: Wikipedia)
While we take a short break from our Oscar's Previews, I thought it was only right to mention the sad farewell of a great show.......... Fringe.
A few hours ago it was the final ever episode, a 2 hour 'event', shown on Sky in the UK at the same time as it was shown in the US, very rare, and the last time it happened was the end of Lost and if that doesn't tell you how important this show was then nothing will. After 5 seasons, the best show of its kind since The X-Files Fringe ended in spectacular fashion.
J.J Abrams created a truly great show, and it may not have been a show of monster ratings, but it never failed to deliver, week in week out the quality was for the most part unrivaled on current television. John Noble as Dr Walter Bishop will be sorely missed from the weekly television schedule, his ability to be funny and then still come out with poignant, heartfelt lines was a joy to watch. Anna Torv bought something very special as Olivia Dunham, and the onscreen chemistry with ex Dawson's Creek star Joshua Jackson, playing Peter Bishop had audiences gripped every episode. One person we can't fail to mention is Jasika Nicole, as long suffering Astrid Farnsworth, such a great character and played to perfection.
I won't review the final episode, in-case you have not seen it, and it is really worth watching, but I will pay tribute to a show that did not stay too long, was loyal to its fan base and had an excellent cast that did justice to wonderful writing.
Its not very often that a show is accurately revered while still airing original content, but Fringe really was that good, it will be forever remembered as one of the best Sci-Fi series ever, and its an accolade it so richly deserves.