0 Flares
0 Flares
×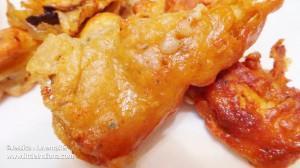 Fried Sheepshead Mushrooms Recipe
When a friend said she had a bunch of sheepshead muchrooms and wanted to know if I wanted some to fry up, you can bet I pounced on that one! Whether you call them Ramshead, Sheepshead, Maitake, or Hen of the Woods, it sure makes one yummy snack!
I admit, I am not the world's biggest fan of mushrooms. It's a texture thing. If they are small and mostly hidden, fine, but big hunks aren't usually my style–until now.
This recipe for Fried Sheepshead Mushrooms is so good! The breading fries up crisp and golden. If I'm honest here, it was more like cauliflower in texture and I sure do love cauliflower!
Fried Sheepshead Mushrooms Recipe
Print Fried Sheepshead Mushrooms Recipe
Rating: 51
From a friend.
A wonderful, easy way to prepare Sheepshead/Ramshead/Maitake,Hen of the Woods Mushrooms!
Ingredients
1/3 Cup to 1/2 Cup Milk
1/2 Cup Flour
2 Eggs
1/2 Cup Seasoned Bread Crumbs
Vegetable Oil, for Frying
Instructions
Combine Milk, Flour, Eggs, and Seasoned Bread Crumbs.
Add more Milk if needed to make the batter the right consistency. You don't want it too thick or too thin.
Heat oil in a skillet over medium-high.
Fry Sheepshead Mushrooms until golden brown.
Serve warm.
Schema/Recipe SEO Data Markup by ZipList Recipe Plugin2.2
http://littleindiana.com/2013/10/fried-sheepshead-mushrooms-recipe/
Photos are the Property of little Indiana. Do Not Use Without Permission.
Small Towns: Destinations, not Drive-Thrus! I'm Jessica Nunemaker and THIS is little Indiana!
Find pictures in Indiana on my Flickr photostream or on the new little Indiana Tumblr blog.
Just don't forget to tell 'em that  little Indiana sent you!
Don't miss a moment. Subscribe to little Indiana and receive instant updates to stay on top of everything "little."
little Indiana: Where to Stay, Play, and Eat in Small Towns in Indiana. Discovering Indiana's best small towns! Now get little Indiana on your Kindle.
Targeted. Relevant. Affordable! little Indiana advertising.