This week's questions are:
"Let's talk crazy book titles! Highlight one or two (or as many as you like!) titles in your personal collection that have the most interesting titles! If you can't find any, feel free to find one on the internet!"
Well..I don't know! I always forget the good names..but I gess the creepy ones are the worst! Like double meanings..but not a GOOD one.


Q. How has your reading habits changed since you were a teen? or If you are still a teen what new genres are you in love with currently?
Hmm..I loved reading fairy tales when I was a kid, then when I was a teen, Meg Cabot (of course!) and all the classics books people HAVE to read, like Shakespeare.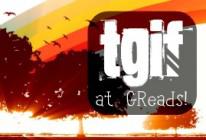 Author Block Party: If you could gather a handful of authors to hang out with, who would you choose?
Oh, now that's fun! I'll HAVE to invite Kresley Cole! She sounds like she knows how to party! LOL