"And now we're back where we started, 
Here we go round again. 
Day after day I get up and I say 
I better do it again.
Where are all the people going? 
Round and round till we reach the end. 
One day leading to another, 
Get up, go out, do it again." - The Kinks
What a silly week!
The Dow was up 100 early Monday then dropped 175 then gained 200 into the close then dropped 100 Tuesday morning, then regained 175 and made the week's high at Tuesday's close and then we opened down 300 Wednesday morning, bounced 100 and dropped another 200 to finish the day at the week's low, just 6.5 trading hours after making the week's high.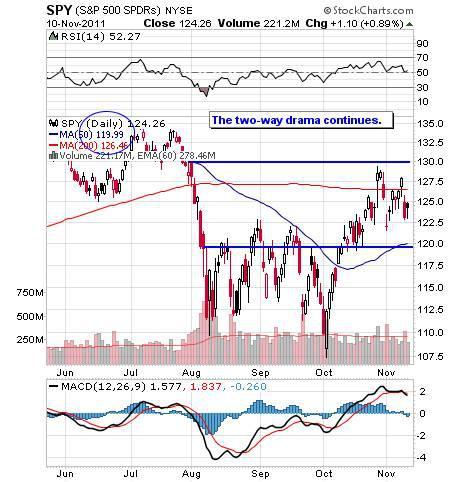 Then we gapped up 100 yesterday morning and topped out up 150 but gave 50 back into the close.  Add it all together and we're down 50 points from last Friday's close.  Did I pick a good week to take a vacation or what?
I gave a mini-dissertation to Members earlier this morning on why I think the World is not ending and why that means I'm still pretty bullish on US equities – all should read when you have a chance. 
Doug Kass agrees with me, calling US equities "the best worst option."  When compared to the rest of the world, the U.S. has a more stable economy, healthier banking system, better corporate culture and more balanced political system than anywhere else globally.  We're the best house in a bad neighborhood, notes Kass.  So, as the situation in Europe worsens over the near-term, he's expecting some heavy global rotation into U.S. equities.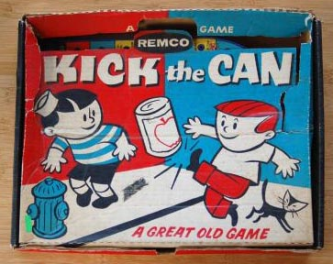 Economists polled by WSJ see a smaller chance of a U.S. recession in the next 12 months, placing one-in-four odds vs. one-in-three they were seeing just two months ago. But the economists put two-in-three odds that Europe will fall into recession, and a 50/50 chance that at least one country will leave the euro zone in the next two years. 
"The euro is held together only by the fear of what might happen if it all falls apart," writes Jeremy Warner, who would prefer energy be spent on how to "get out of the mess" rather than "to prop up a manifestly failed endeavour."  Status quo might condemn Europe to something even worse than Japan's lost decade.
IN PROGRESS