Other than that, we're just waiting to see what happens next.  As you can see from our Big Chart, we're testing resistance lines from both above and below and today we'll get an idea of which way things are trending but, of course, we are still not ready to go bullish as the Russell STILL is not over 1,000 for two consecutive days (or one, for that matter). 
That's what's been keeping us cautious and now we have a genuine concern that the Dow may actually fail it's -5% line at 15,200 – that would be a very bearish signal!
The Nikkei, of course, fell 1,000 points in a day after having run up from 9,000 to 12,500 since October, so a 28.5% pullback, while the Dow has gone from 14,500 to 15,500 since late April and we had a 300-point pullback to 15,200 before bouncing.  That's 30% of the short run but the long run in the Dow has been from 12,750 in November to 15,500 on Wednesday (thanks to GS's S&P 2,100 call) and that's 2,750 points and 30% of that is also around 1,000 and we sure hope THAT doesn't happen in a day!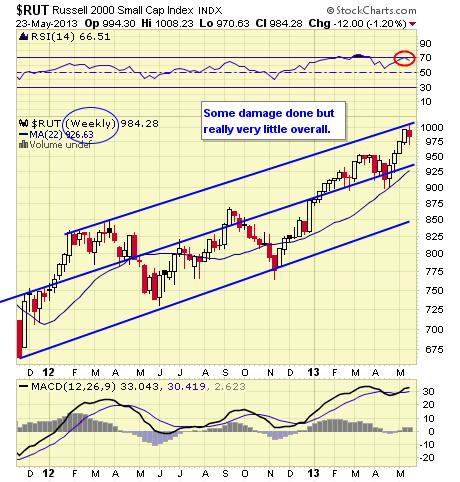 The Russell is up 225 since November (see Dave Fry chart), but we had a nice consolidation move in April as they retraced the 175-point move (at the time) a textbook 35 points (20%) from 950 to 915 and now we're at 1,000 and a pullback to 955 would be very healthy before heading higher.  Anything less than that and we're still firmly on our bullish track 
This morning we took a poke at shorting the Russell in the Futures (/TF) at 980 and they fell to 976.50 but back to 979.50 already so nothing very exciting so far.  Oil got beaten up enough ($92.50) that we flipped long on it yesterday and those contracts are currently +$1,000 at $93.50 but it's gasoline we're excited about as we liked /RB long at $2.80 and they are already at $2.81, for a quick $420 per penny per contract and we are expecting a nice run as the NYMEX traders look to screw as many drivers as possible over the holiday weekend.  
That's one thing you can count on in this market – the public will get screwed…
IN PROGRESS
This article will become free after 48 hours (see below for free content). To read the rest of this article now, along with Phil's live intra-day comments, live trading ideas, Phil's market calls, additional member comments, and other members-only features -
Subscribe to Phil's Stock World by clicking here
.