We hit our 13,600 line on the Dow yesterday and this is the point where, last September, when I called the Dow a canary in a coal mine for being the only index not to break it's Must Hold level on the big chart – the same Big Chart we've used all year with the same levels predicted since the Big Crash.  We're only living the 5% Rule here – we're a long way from breaking it.  
Note how the Big Chart from September 24th of last year looks the same as the current chart (see yesterday's post), right down to the same Striking Cobra pattern that's all the rage now with the TA crowd.  We had just had massive QE announced in Europe and Japan and the Fed was extending our own QE but I gave my analysis of the Dow components and concluded they were out of gas and we were likely to be topping.
This was the topic of discussion in yesterday's Member Chat along with my famous Tugboat Theory of Market Movement, which is keeping us in our mid-range TZA hedges – even as the Russell cracks new highs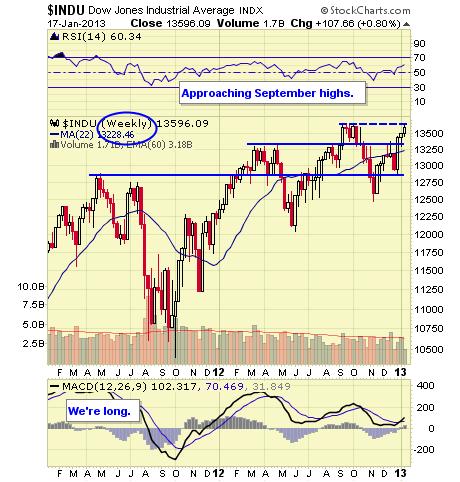 My conclusion at yesterday's close was:
I can't believe the Dow's at 13,600 and AAPL is at $505.  Remember when they were talking about putting AAPL in the Dow?  That was at $700 and the $200 drop at 8 points per Dollar (Dow is not cap-weighted) would have cost around 1,600 points!  As it is though, 13,361 was the tippy top in October but we closed about 13,320 and that was our only day above (with a cliff dive after).  So a day above tomorrow, into the long weekend, would be a huge victory but, first, we have to close above today. AAPL was about $666 at the time and the Nas was 3,196 at it's high so very strong if you ignore AAPL's 6% drag on the index.

So, we're much stronger internally on the Nas now than we were then and, hopefully, that means we don't have an air pocket underneath us.  The way
…
This article will become free after 48 hours (see below for free content). To read the rest of this article now, along with Phil's live intra-day comments, live trading ideas, Phil's market calls, additional member comments, and other members-only features -
Subscribe to Phil's Stock World by clicking here
.