so it's been a while since i've had a chance to participate in friday's fancies. one because i was finishing up grad school (feels great that i finally graduated!) and two because the weather has been just wonderful. who can't pass up being outside in the sunshine?! i'm glad that i chose this week to come back. i've definitely been crushing on chambray for a while now.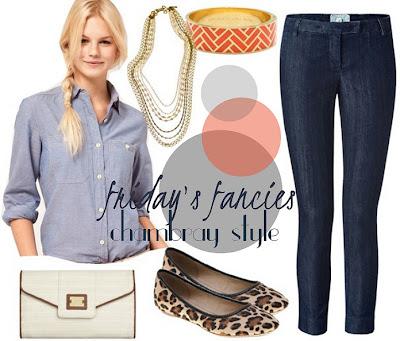 top : clutch : flats : pants : bracelet : necklace
what i really love, is the light chambray on dark demin look. i think it looks pretty sharp along with some super cute leopard print flats. i can definitely see myself sporting this outfit around while shopping along the boutiques in elmwood village :) are you loving the chambray? what do you think of it being paired with a dark pair of demin jeans?
xoxo,lindsay
p.s. i just wanted to wish my brother and grandma a very happy birthday!