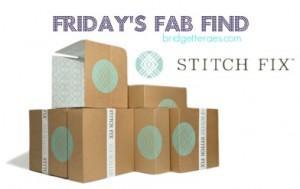 Have you ever found yourself succumbing to the charms of a beautiful dress with the vague notion that you will find a way to wear it when you get home? Do you find yourself daydreaming about a personal stylist applying the finishing touches to your fall wardrobe?  This week's Fab Find is Stich Fix, an online styling service that hand selects the perfects clothes and accessories tailored to your unique needs.  A game changer in the best sense of the word, Stich Fix may revolutionize the way you shop.
How does Stich Fix work?
The first step is to complete a personal style profile with your size, shape, style, budget, and lifestyle.  Once the profile is completed, you can schedule a shipment date.  Stich Fix will send you a box of 5 clothing and accessory items selected especially for you from a collection of over 200 labels.  You pay a $20 styling fee which will be applied as a credit towards anything you keep from the shipment.  And this is my favorite part: Each of the five pieces comes with style cards that offer ideas and inspirations for different ways to wear the piece.  Real advice from a real stylist!!  Shoes chosen for a dress, tops that match a pencil skirt, the stylist will suggest the perfect accompanying pieces that you may never have thought of.  You then have three days to try everything on.  A few tips for those three days – text pics to your friends, mix and match with existing pieces in your closet and generally decide how well these items will realistically fit within your lifestyle.  As an added incentive, if you decide to keep all five pieces, you will receive 25% off the entire shipment price.
Stich Fix's inventory currently includes shirts, sweaters, pants, skirts, dresses, jackets, scarves, jewelry and bags and is available in womens sizes 0/XS–14/XL.  The average price point is around $65 per item.
For more information or to purchase this product, visit stichfix.com
Jessica Hendler is a contributing writer and editor for Bridgette Raes Style Expert's blog and is currently responsible for Friday's Fab Finds.  Have a Fab Find that you think we should feature, email Jessica at [email protected]

Repost This Article