I live in New York City, a city where there is no shortage of cheap accessories.  In fact, Manhattan can often feel like the mecca of $5.00 sunglasses, handbags, scarves and an endless stream of jewelry – from gold to sterling silver to colorful stones for every season.  While this abundance of merchandise can make the city feel as though it really is lined with gold, do you ever wonder where this stuff is really coming from and who makes it? This past Fall, Maiden Nation was launched to address this exact issue through the use of ethical fashion and "intentional capitalism."
What is Ethical Fashion?
Ethical fashion is not a new concept but it is rapidly growing especially in the world of design. In fact, some might call it the new black. Similar to fair trade coffee where the product is grown by local farmers and profits are distributed equitably, ethical fashion seeks to provide consumers with quality designs while utilizing sustainable materials and employing fair labor practices.
What is Maiden Nation?
Maiden Nation has taken this concept in an new and exciting direction by combining ethical fashion with the cache of celebrity designers while simultaneously empowering female entrepreneurs and donating proceeds to charities across the world. The result is a win-win. Designers are given a platform to showcase their designs and sell their products. And even better? All but a small portion of the proceeds are donated to organizations that seek to empower women on a global scale.  And you don't have to be a celebrity to sell your designs. Women designers from Brooklyn to Kabul to Haiti are featured on the site as well.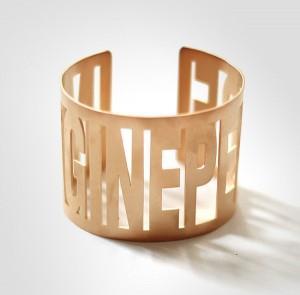 Yoko Ono's Imagine Peace Bracelet
Yoko Ono's "Imagine Peace" bracelet. Proceeds are donated directly to her charity, the Rainbow House in Japan, an organization established to help victims of the 2011 tsunami.
Gloria Steinem with her series of bracelets "We are Linked, Not Ranked" Proceeds benefit feminist.com.
Still on the fence?
You can join Maiden Nation as a designer or simply a shopper. The benefits are twofold: the opportunity to purchase an original design by a talented designer while feeling good about the fact the proceeds of your purchase are benefiting a worthy cause. The result? Ethical fashion at its most fashionable.
For more information or to join, visit Maiden Nation
Jessica Hendler is a contributing writer and editor for Bridgette Raes Style Expert's blog and is currently responsible for Friday's Fab Finds.  Have a Fab Find that you think we should feature, email Jessica at [email protected].

Repost This Article