What makes something a 'Friday Fab Find'?  Well there are different criteria but one thing we respond to is a business that addresses a need which had previously been neglected. Izzy Camilleri is one of Canada's foremost and most celebrated fashion designers. For 30 years, Izzy designed custom clothing for an international clientele, crafted gorgeous collections featured in fashion magazines from Vogue to InStyle, and dressed film industry A-listers like Mark Wahlberg, Angelina Jolie, David Bowie, Jennifer Lopez, and Meryl Streep.
In 2004 a wheelchair bound journalist was referred to her, hoping to get warm winter cape made that she could take on and off easily.  Realizing that people in wheelchairs want comfortable, functional, good looking, easy wearing clothes as much as we all do, Izzy set about creating Iz Adaptive.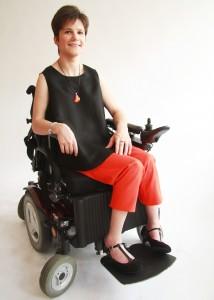 Iz Adaptive clothes are designed and created specifically to address the needs of a seated consumer. People looking for wardrobe-building solutions that are practical, brilliantly designed, and of course, totally stylish. Think cut-lines specific to a seated body shape, structured so they fall and drape naturally and don't interfere with wheelchair mechanics. Fabrics with stretch that won't gape, bunch, or add unnecessary bulk. Open-back styles, strategically placed zippers, and magnetic buttons for easier on-and-offs. Whether you're able to dress independently or require assistance, IZ Adaptive's designs are tailored to save you effort and time. And to make you look GOOD! Yes function and ease are important but so is style! Iz Adaptive  has a gone another step by insisting that the clothes be flattering and in vogue. As Izzy herself states on her website:
"It's the most inspiring work I've ever done, I feel like I'm applying my talents to something very important. My customers now continually remind me just how good fashion can make you feel – especially when it fits just right."
Learn more at Iz Adaptive and watch the video below for more information.
Coats by IZ Adaptive from IZ Adaptive on Vimeo.

Repost This Article