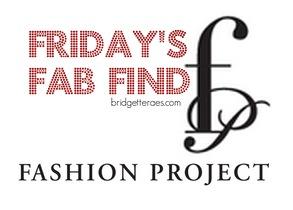 The next time you purge your closet, I want you to think about donating your gently-used clothing to Fashion Project,  the first designer shopping experience featuring exclusive apparel, shoes and accessories that are generously donated by style icons, celebrities and philanthropists from around the world, and my choice for Friday's Fab Find.
Started by two friends and classmates at Harvard Law, Fashion Project was conceived to solve the problem of donating designer clothing to charity.  How it works is a majority of all  sales are donated directly to the charity of the donor's choice, creating a new way to deliver value to their favorite cause.  By creating a new way of giving focused on personal service and merchandised collections, Fashion Project is able to raise up to 100x more than traditional thrift stores for the items in your closet.
The whole mission of Fashion Project is to make "fashion a force for good", as described by CEO Anna Palmer who started the company with her classmate and now COO Christine Rizk.   As a style expert who has been helping clients purge their closets for the past 11 years, I see Fashion Project as the answer to the needs of many women out there who don't want to place their precious donations in a garbage bag or dump them at one of those bins in a parking lot, yet, have no interest in consigning them or donating them to a thrift store.    Rarely are clothing donations about making money.  Many women just want to know that what they are getting rid of is going to a useful place that will provide benefit for someone else.
How Fashion Project Donation Works
Fashion Project accepts pre-owned, gently-used and new with tags women's and men's luxury items, including  luxury clothing, shoes, handbags, accessories, fine jewelry and watches in excellent condition which can range from J.Crew to Prada – anything you would buy at a luxury department store similar to Neiman Marcus or Nordstrom.   As a donator to Fashion Project, a majority of all sales are donated directly to the charity of your choice, creating a new way to deliver value to your favorite cause.  If you don't find your charity of choice on the list, Fashion Project will work with you to get them signed up.
Donation is simple.  All you have to do is fill out a form and a donation packet is sent to your home.  For large donations, a concierge pick-up service is also available in a few cities.  After your donation is processed and put up online, you are able to track how well your clothing is doing and the impact it is making on your charity.
Shopping with Fashion Project
If you don't have clothing to donate to Fashion Project, as a shopper you can also make a difference.  In fact, as a shopper, you are an important part of the equation.  Fashion Project members benefit from access to labels at private sale prices, while making a charitable impact with each new addition to their wardrobe.  The site is set up like a typical e-commerce site, only at the end you get to see the impact your purchases has made as 60% of your donation will go back to charity.  For example, imagine getting this Gucci Handbag for  $210 (originally $1,050) knowing that the net profits of your purchase will go directly to the donor's charity of choice, which, in this case, happens to be Global Giving.  It's a feel good win-win all around, plus, you look fabulous…and get a bargain all at the same time!
For more information, to shop or to donate, check out FashionProject.com.