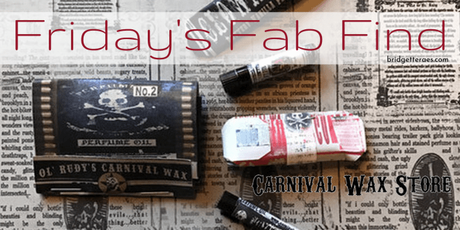 It's finally Autumn. I am so relieved. I'm ready to tuck away my sun dresses and pull out my sweaters. I'm also ready for a new perfume.
Anyone who reads this column regularly knows I am a perfume FREAK.  I'm always looking for new sources. I heard about Carnival Wax perfume from where else my favorite podcast Rupaul and Michelle of What's the Tee.  While discussing Agatha Blois and her legendary leather creations, Michelle Visage (Root for her on her BBC's Strictly Come Dancing) pointed out she had a wonderfully success perfume company called "Carnival Wax". 
I'd immediately googled it. 
Carnival Wax Perfume
Many people see Taylor Swift or Sofia Vergara on a perfume bottle and think, "anyone can create a perfume!" (Did you know Pamela Anderson had a perfume once? No you didn't. No one did.)
The actual mixing of perfume oils is a craft many people spend years apprenticing before working in the industry. And considering how many missteps Donna Karan has had, it's not an easy road to travel. 
But I LOVE Carnival Wax Perfume. Don't let the odd name fool you. Agatha Blois specializes in taking unusual scents and fusing them into unique, compelling high quality scents.    
Worried about buying perfumes in the mail? You can buy 1 ML samples and enjoy some truly creative packing (always subject to change, Carnival Wax likes to mix it up!). I cannot wait to smell "Stormtropper" 
Perfume oils are perfect for winter weather when scent can get lost under heavy layers. Just be careful not to let the oils get on coats or sweaters. 
Ready to try some for yourself? A few lucky winners will get samples. Check out Carnival Wax here and leave a comment saying why you love perfume and want to try it!