This week's questions for other blogs hops are:
TBA
TBA


Q. It's that pesky magic book fairy again! She has another wish: What imaginary book world would you like to make a reality?
Harry Potter! No competition there =P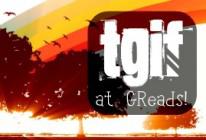 Book Disappointments: Have you ever come across a book you were so stoked to read, but it failed miserably in your eyes?
Yeeees. A few times, unffortunately.

Recent Posts
Giveaways
• Ends september 23rd: Small Blogs Big Giveaways! Over 30 prizes!
• Ends september 16th : Win an ebook by Aubrie Dionne!
• Ends september 30th : Win a $50 amazon gift card!
SIGN UP FOR THE CELEBRATING ROMANCE GIVEAWAY HOP!