I like to put up this chart of the Macro Indicators (this one from Dave Fry) every once in awhile, just to keep us grounded as we play the market at these nose-bleed levels.  And yes, I know I sound like a grumpy old bear, the same way I was accused of being a perma-bull 8 months ago, when the S&P had crashed 10%, back to 1,343 and I wrote articles like:
"Fed Up Thursday – WMT and the Fed Fail to Boost the Market" (11/15) 
"Testy Tuesday – Can We Hold Our Weak Bounce Levels?" (11/20) 
"Dividend Investing – Giving Yourself an Automatic Edge" (11/25) 
"Cyber Monday – Record Retail Sales Trump Cliff Concerns, for Now" (11/26) 
"GDPhursday – Fiscal Cliff Progress Good for 200 Points Ahead of GDP" (11/29)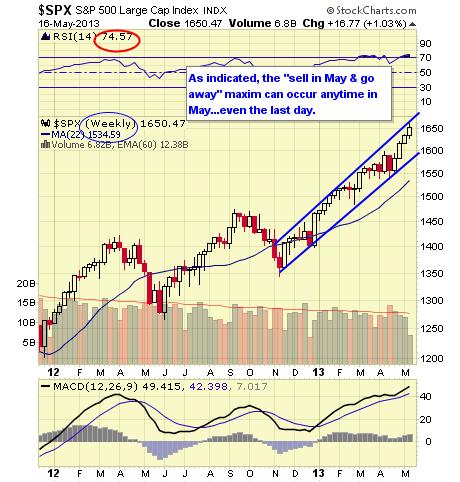 After that, we were off to the races and people finally stopped making fun of me for being so bullish in such an "
obviously
" declining market.  Yes, I was early – that's the problem with reading too much and looking at the Fundamentals – sometimes you see things that seem "
obvious
" to you but it does take the crowd a while to catch up and, for better or worse, it's the crowd that does the buying and selling.  
So now I'm worried and, although I was clear (I thought) at the beginning of the month that we may keep going up until Options Expiration Day (today), or even to the end of May, into the holiday weekend – I've still been branded a perma-bear by readers (not our Members, who know me better) who seem angry that I dare question the market.  
Well, I have to dare – it's my job.  And I'd love to be a sell-out as bullish market newsletters make more money so we attract less new people when we go bearish but I kind of think it's my job to tell you what I think is going to happen – not what you want to hear.  
As noted yesterday, my plan for the weekend is to do some soul-searching and try to figure out if MORE FREE MONEY will continue to trump the underlying weakness in the Global Economy.  The…
This article will become free after 48 hours (see below for free content). To read the rest of this article now, along with Phil's live intra-day comments, live trading ideas, Phil's market calls, additional member comments, and other members-only features -
Subscribe to Phil's Stock World by clicking here
.