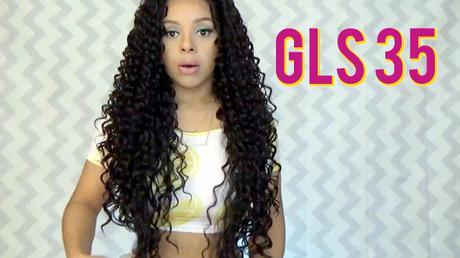 I'm just loving Friday Night Hair wigs. The GLS35 is my 4th wig review from this company. The units are synthetic. But they look EXACTLY like human hair! GLS35 has wavy, Brazilian curl pattern. It's super long and full. I did end up cutting it a bit. It was just too long for my liking. You can pick up this unit at Friday Night Hair.
GLS35 WIG YOUTUBE REVIEW
FRIDAY NIGHT HAIR GLS35 WIG SPECS:
NAME:
FNH GLS 35
COLOR SHOWN HERE:
#2
MATERIAL:
Synthetic
TYPE:
Lace Front Wig
LENGTH:
Long, layered 16 – 26 inches
PARTING:
Approx. 2 inches of natural looking parting space from ear to ear.
HEAT SAFE:
Yes – Up to 400ºF / Heat resistant fiber
WIG CAP:
Comfortable size with 2 combs at temples and 1 in back; adjustable straps.
MORE PICS OF GLS35 WIG
Follow @GirlRatesWorld on IG! on Jun 2, 2015 at 6:59pm PDT
Follow @GirlRatesWorld on IG! on Jun 4, 2015 at 9:21am PDT
My new #hair is longer WOW! http://t.co/r7POO2F8ZH Check it out #hairhour #longhair #CurlyHair #WednesdayWant pic.twitter.com/bTcPBd4wCv

— Follow @GirlRatesWorld on Twitter June 10, 2015
HEY! JOIN ME SOCIALLY!
I love doing this, guys!! So I really don't want you to miss the next update. You can check out more of my wig reviews (& more) here or on youtube. Be sure to follow @GirlRatesWorld's page on instagram, twitter and facebook too! Be sure to leave any questions you may have below. I'll answer them soon.