It's FRIDAY y'all! I'm excited to link up with Lauren for High Five for Friday.
I always love looking back at my week and appreciating the little things :)
So here are 5 of my favorite things from this week: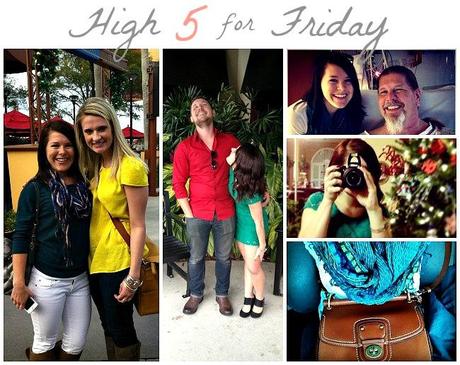 one. I MET MY BLOG BFF IN REAL LIFE. I absolutely love her! We clicked right
away. It was like we'd been besties forever...no big deal. Everyone go say hi to Meg!

two. I really enjoyed spending Christmas Eve and Christmas Day with my loved ones!
I have a ton of pictures that I'm planning on sharing next week.
three. My Daddy had heart surgery Wednesday. I'm SO thankful that he made it through
and is in recovery. He gets to come home Saturday night. Thank you for y'all's prayers
(via Instagram)!
four. New camera for Christmas = stepping up my blog game. Things are getting serious,
people ;) Oh and P.S. I'm getting another blog makeover VERY soon!
five. Putting some of my Christmas goodies to use. Loving one of my new scarves and
Coach cross body!
Enjoy your weekend, sweets!


lovelylittlethingsblog.com