Super market is on the march in March after a flatline February, which is now starting to look like some healthy consolidation after a 1,000-point pop in the Dow in January.  As I noted yesterday, 14,400 is where we expect to get our next round of resistance but, after that, we've got clear sailing all the way to 15,200.  
The Dow is doing so well that the Dow 36,000 boys are getting interviews again.  As noted by Jim Glassman:  
Currently, for example, the forward P/E ratio (based on estimated earnings for the next 12 months) of the Standard & Poor's 500 Index is about 14. In other words, the earnings yield for a stock investment averages 7 percent (1/14), but the yield on a 10-year Treasury bond is only 1.9 percent — a huge gap. Judging from history, you would have to conclude that bonds are vastly overpriced, that stocks are exceptionally cheap or that investors are scared to death for a good reason. Maybe all three.

One way stocks could jump to 36,000 quickly would be for fears to subside and P/E ratios to rise. Assume that earnings yields fall to 5 percent. That would mean P/E ratios would go to 20, a boost of 50 percent in stock prices, assuming constant earnings.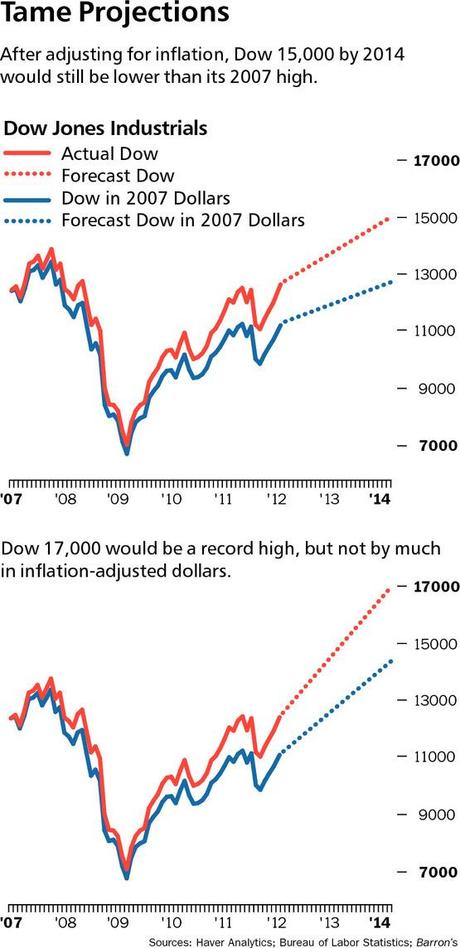 We don't have to agree with 36,000 to see some sense in the premise.  Yes, p/e's are low and the assumptions that growth will remain slow may be misplaced – especially when Corporations themselves are sitting on over $2Tn in cash and using some of it to buy back their own stock at record levels.  That coupled with M&A and privatization (DELL) is taking more and more shares off the market at the same time as demand for them are growing and Corporate Profits (/e) are posting new records each quarter.
What if the economy actually improves?  What if the US goes back to it's historic 3.5% annual growth and Europe stops being a drag and Japan finally stops deflating (printing 100 Trillion Yen seems to be helping so far) and the…
This article will become free after 48 hours (see below for free content). To read the rest of this article now, along with Phil's live intra-day comments, live trading ideas, Phil's market calls, additional member comments, and other members-only features -
Subscribe to Phil's Stock World by clicking here
.