I've always been a girl who thinks, "Pink!" the second someone asks me my favorite color. But I almost always respond, "Green." To be fair, I love both colors equally but somewhere along the way pink got a reputation for being youthful, too girlie and, as an adult, somewhat embarrassing.
Maybe it's because I'm inching ever closer to thirty but I'm no longer ashamed of my rosy outlook. After all, pinks are flattering on every skin tone and, according to some psychologists, boost your mood and reduce anxiety. And whoever decided that there was something wrong with being girlie anyway?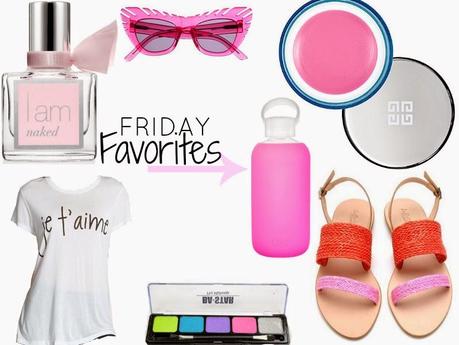 I am naked by I Am Fragrance// Combover Cat Eye Sunglasses by House of Holland// Hydra Sparkling Magic Lip & Cheek Balm by Givenchy// Glass Water Bottle in Bambi by BKR// Dree Sandal by Loeffler Randall// Tropical Eye Shadow Palette c/o BA

★

Star (Use Code 50TROPIC for 50% Off!)// Je t'aime Tee by Peace Love World// When it comes to eye makeup, I'm usually a liquid liner and lots of mascara kind of girl. So I was more than a little weary when I opened a box from BA

★

Star  only to find their uber-bright Tropical eye shadows. While I have to admit that I haven't braved the blue or green shadows yet, the three remaining colors go on surprisingly sheer and the pink looks especially pretty when layered under their sparkly silver. 
Speaking of makeup, did you know that there is a tiny Givenchy store hidden away in Epcot at the Walt Disney World Resort? Yup. If you explore the French pavilion in the World Showcase you'll come across a fragrance boutique, a full Guerlain store and Givenchy's first stateside boutique. After a delightful dinner at Le Cellier (that's the Canadian pavilion's beloved, and expensive, steakhouse for those of you who don't identify as "Disney people") I, of course, took myself over to browse and came out with a tub of Hydra Sparkling Magic Lip and Cheek Balm.  They weren't kidding when they called it magic! Although it looks bright in the jar, this balm's pigments actually react to the humidity of a person's skin so it looks different, and natural, on everyone. It also has Hyaluronic acid spheres that instantly plump skin and leave it feeling extra soft. I literally wear it every day and feel lost if it's not readily available in my bag! 
Last weekend, my mom and I made the trek up to Maine to visit with some family and celebrate my birthday. While Maine isn't exactly my favorite spot, it was really fun to see everyone. On the way home we stopped for lunch in the beach town of Ogunquit where we came across H.&M. Crumpets'. It's a charming home and cosmetics boutique right on Main Street that is stocked with brands like Tocca, Deep Steep, and Jack Black. But it was their selection of I Am Fragrance roller balls that caught my eye and I ended up leaving with two jasmine infused scents I am naked and I am good. 
It may not be pink but I can't resist Peace Love World's je t'aime graphic tee. It's made from super soft Micro Modal so it feels practically weightless on humid days. Besides, what says pink more than "I Love You"?