Did you see the frightened ones? 
Did you hear the falling bombs? 
Did you ever wonder 
Why we had to run for shelter 
When the promise of a brave new world 
Unfurled beneath a clear blue sky? - Pink Floyd
What were we excited about? 
With 204 of the S&P 500 now reporting 68% (139) have beat earnings estimates BUT only 44% (90) have beaten on revenues.  It's yet another year of cost-cutting and share buy-backs to boost earnings per share with no actual growth in real earnings yet the market, overall, is up 35% from where it was last year on a 2.9% overall growth in EPS.  - THAT'S FRIGGIN' CRAZY!  

If we back out BAC, who had the crap fined out of them this Q, then the S&P earnigs are up a more respectable 4.9% but, on the other hand, that includes superstars like AAPL, who dropped $13Bn on the S&P by themselves, and it's very unlikely the rest of the S&P will bring up the curve.  In fact, Zacks is now estimating that overall earnings will be DOWN 0.9% for the quarter compared to last year and DOWN 4.6% from last quarter.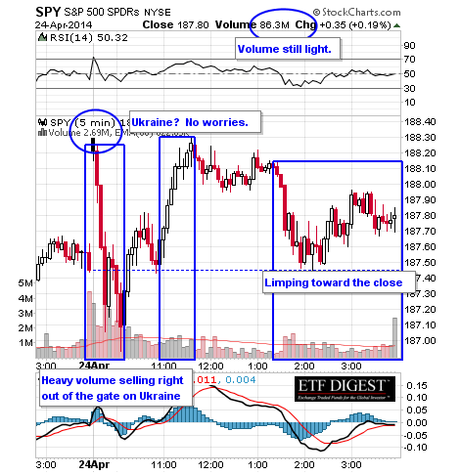 No wonder we are seeing the continued exodus of "smart money," who sell in volume into every rally we have.  What's getting scary (and keeping us bearish) is that now we aren't even making gains on weak volume.  Yesterday's move up was 100% due to AAPL, which gained over 8% on the day.  
Since AAPL is 15%+ of the Nasdaq, that 8% gain should have popped the Nasdaq 1.2% and the rally in AAPL suppliers should have lifted the index even more.  But it didn't.  The Nasdaq was only up 0.8%, so it would have been down 0.5% without AAPL's contribution and even further without the rally in suppliers and the sectors that support them.  
As I said to our Members yesterday ahead of the bell, Apple's gains are Samsung and others' lossses, NOT an indication of strength in the sector.  That's why AAPL is our stock of the year – it's simply a better company in a better position this year than their competitors.  Our AAPL trade of the year
IN PROGRESS
You must login to see all of Phil's posts. To read the rest of this article now, along with Phil's live intra-day comments, live trading ideas, Phil's market calls, additional member comments, and other members-only features -
Subscribe to Phil's Stock World by clicking here
.
To signup for a free trial membership, click here.