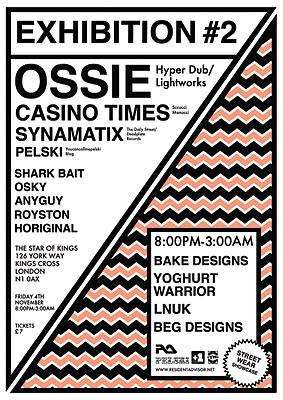 I'm looking forward to playing this Friday, where I'll be warming up for Ossie and Casino Times - two of our favorite new producers - at the second Exhibition, The Star of Kings.
Ossie recently came to the forefront with two impressive EPs on Lightworks and Hyperdub, a slick strand of uk funky, all organic tribal percussion and r&b vocal snips.
Followers of the blog will probably know Casino Times for their sublime 'That's The Truth' that appeared on Pelski as a freebie. The track went on to catch the eye of many the diserning house head after a vinyl release on Sccucci Manucci.
Support will be coming from myself, Sharkbait and a number of Exhibition Residents.
OssieCasino TimesSynamatixPelski Shark BaitOskyAnyguy
Starts at 8pm, £5 before 10pm, £7 after.
Or fire your name over to the £5 guestlist: [email protected]
Facebook event.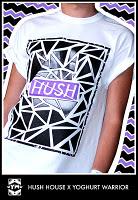 Exhibition's resident and clothing aficionado Yoghurt Warrior has put together a deep mix to get you in the mood.
Make sure you get down early on Friday to check out the streetwear showcase. Yoghurt Warrior will be selling the brand new Hush House collaboration tee as an exclusive sneak peak to the rest of their new range due next month.
Exhibition mix Vol 2. mixed by Yoghurt Warrior by Exhibitionuk on Mixcloud