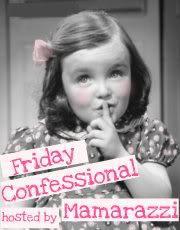 I confess...
I'm very excited to be back to joining this weekly link-up!
I confess...
This week, with my father & step-mother in-law here, things have been little short of magical around our house. I've taken five uninterrupted showers this week. FIVE. Amazing.
I confess...
I've been reminding people I know who do not have children not to take things like uninterrupted showers for granted.
I confess...
The last sentence annoys me. It seems grammatically incorrect, but I cannot think of a better sentence at the moment.
I confess...
I'm also getting really annoyed with the fact that I keep acquiring pimples. I feel like I'm too old for this.
I confess...
Mentioning things I'm getting too old for, I am ridiculously tired...and it's all my own fault. I stayed out past 11pm last night with friends from my Mothers of Multiples group. It's always a fantastic time, but I really should not do such things when I need to be up at 5:15 for work the following morning.
I confess...
We have a tax appointment tomorrow morning and I am very nervous. The online program I began using says we're going to owe a lot of money because of the foreclosure, but the tax professional I called seemed very confident that he could solve the problem and we would not have to pay.
I confess...
I hope he's right. Otherwise, we'll be paying the IRS for a very, very long time.
I confess...
I refuse to let the tax issue destroy our plans to take our very first family vacation this year. We're going to Disneyland in June! I'm beyond excited. My children have never been out of Las Vegas. And who knows when they may get another chance? It's certainly not likely to happen once their dad gets laid off.
What are you confessing this week?