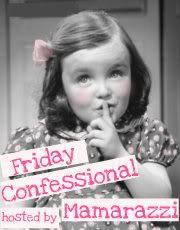 I confess...
I want my car back.
I confess...
I'm really annoyed with the shop for getting our hopes up by telling us we'd have the car back by Saturday. I just knew it couldn't be true. Nope - We found out late this afternoon that now we have to wait until Tuesday.
I confess...
I feel super guilty for having to borrow my mom's car for even more time.
I confess...
I feel nauseous when I think about how much money we are spending to get the thing repaired.
I confess...
I should've known that we weren't going to get ice cream without a cherry on top. What's that cherry, you ask? Oh, yeah...Dawson got sick this week too. And it's a virus so we can't really do anything about it except use the nebulizer a few times a day. Other than that, we just get to feel helpless when he coughs and cries.
I confess...
I think I may need to take an extended break from the blog...maybe a week or two...and then hopefully come back in a better place.
I confess...
I really love all my bloggy friends. I promise not to leave for good. :)