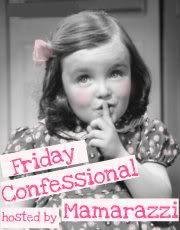 I confess...
I only went to the gym twice this week. Fail.
I confess...
I should be there now, but I'm not. I just couldn't find the motivation tonight.
I confess...
I am a stress eater. I got in a car accident and had my air conditioning go out in the same week. You do the math.
I confess...
I don't know if I'll even be able to get to my Weight Watchers meeting tomorrow morning because I don't know when the AC repairman will get here. "I'll be there sometime between 8am and 1pm," he says. Gee, that window is not at all inconvenient for me...thanks
[email protected]
*%.
I confess...
My classroom is looking much more put together, but I'm still freaking out because there is still so much to do and so little time to do it in!
I confess...
The most upsetting thing about the car accident for me was the time I missed working. I lost a whole morning.
I confess...
Shaun fell asleep on the couch downstairs while the kids were eating dinner and I have no intention of waking him up. He can stay down there all night if it means he gets some good sleep. We'll all be better off in the morning for it!
I confess...
I'm thinking about putting Dawson into a little soccer program for the fall and keeping the twins in dance. I find it hard to believe that my kids are even old enough to do these things.
I confess...
I'm hungry...sigh.
What do you have to confess this week?