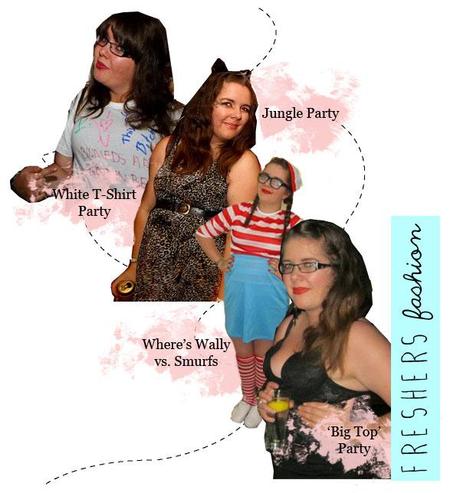 Ok, so it's bit of an outfit post purely for lolz, but I thought I'd update you on the last week of shennanigans via the medium of a Freshers Outfit post. I've been having a 'refreshening', as we like to call it, and to be honest...freshers is 100x better this time around. That's probably because I have now lived in Bristol for over a year (it was my anniversary on Monday actually) so I know the city a lot better. I didn't go to any city center events last year because everything felt so expensive and scary!
Last Friday was the White T-Shirt party, where you basically run around and write random things on other people. I managed to get 'I love Biomeds' on about 70 people, muahaha. We then went to the campus Welcome Party on the Saturday, with an awesome DJ set from Reggie Yates - we all got excited because of his CBBC days, haha. The day after was the Jungle Party, which meant lots of face paint and onesies! I went as a leopard, and even recycled my cat ears from a Halloween event last year...student budgeting at its finest ;) Monday was the Big Top party, so we went along dressed a showgirls - which basically meant underwear on the top with a pencil skirt and court shoes. I went for a pin up girl inspired hair-do and rocked the red lipstick like a pro, if I say so myself. Then we all became Where's Wally and Smurfs on the Tuesday evening - the same event happened last year but sold out, so I was super excited that I could actually go this year! Oh, and on Wednesday we went to a Catface party, which does what it says on the tin...everyone had cat faces! PHEW.
It's been a busy busy week, so last night me and the housemates ate Dominos, Super Noodles and watched the Katy Perry film. A well deserved chill out night methinks!
I hope you're all enjoying your freshers/refreshers and if you are moving down to university on the next couple of weeks, make the most of the coming week because it's amazing!