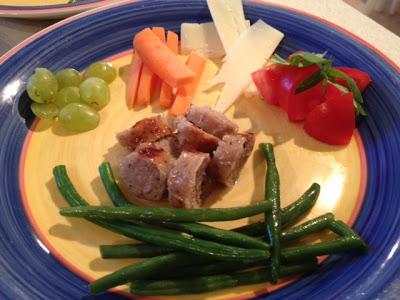 Photo Credit: Me. 
Ingredients:
Sliced Carrots
Sliced Pecorino Cheese
Tomatoes with BasilSliced GrapesGreen BeansCumberland Sausages
This is dinner for my kids tonight. It is quick, very easy and hits the mark on the healthy scale. 
I find my kids are more likely to dig into their greens if they have a little fruit on the plate as well. 
What to do:
Grill the sausages for approximately 20 minutes at 400˚F (200˚C). In the meantime, prepare the rest and plate it. Add a teeny-tiny pinch of salt to the tomatoes, if you'd like or Olive Oil and/or Vinegar, but I didn't tonight. A dash of butter perks up the beans and I slice the grapes in half so the kids aren't assaulted by sweetness when they burst open on the first bite.
For The Boy, I add a smiley face in mustard and a heart in ketchup because little ones always eat better with a hint of entertainment!
Yell at the kids
Call the children for dinner and they'll just have time to wash up while you slice the sausages for them and serve!
Want more tips for getting your kids to eat healthily? Check out my 5 Tips For Getting Your Kids to Eat a Healthy Diet. 
What are you serving for dinner?