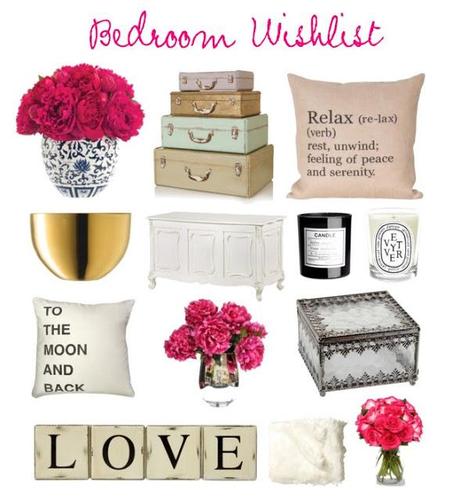 Vase, Wooden Storage Trunks, Cushion, Candle Holder, Commode, Black Candle, Diptyque Candle, Cushion, Vase, Jewellery Holder, LOVE Blocks, Sheepskin Blanket, Vase
As you all know by now, I've become a little obsessed with decorating my bedroom, so when Chaise Longue contacted me about creating a 'Bedroom Wishlist' to have the chance of winning an iPad 3 it sounded like the perfect competition for me! I decided to do it in-keeping with the theme that my bedroom already is, instead of making it random bits that I like, so it's also a kind of expensive shopping list for myself, most of which I can't possibly afford! 
My inspiration comes from the bare white canvas that my room already is. I love the look of white furniture and walls with painted hardwood floors as they are airy and bright (whilst also being chic and modern) and lend themselves well to whatever possessions you decide to put inside. The only problem with this is that it can feel slightly clinical at times, so needs to be dressed up with cosy cushions blankets and nice vibrant colours. With this in mind, the kind of furnishings and decorations that I love using have to be functional and pretty so that they add to the minimalist theme and don't clog up the room and have hues of pinks, golds, silvers, and glass making them all feel very luxurious. 
I can imagine all of these items fitting into my room perfectly! The trunks, commode and jewelry holder can all be used as storage so don't actually take up as much room as they might seem to, whilst simultaneously creating a space where you can stuff all your junk (don't lie, you never throw anything away either, right?) and the vases and candles can be placed at various intervals around the room to make yourself feel like you are actually living in a Pinterest bedroom. 
Finished off with some cushions on the bed and a sheepskin rug draped across a chair, I've got myself the perfect bedroom. 
What would be in yours?