French Vanilla Original Fragrance Oil – Fragrance Oil Spotlight
Indulge in the best selling aroma of French Vanilla Original Fragrance Oil.  This rich, creamy fragrance oil is enough to drive any sweet-tooth wild!  Now, some of you may be wondering "French Vanilla is such a distinct scent… How could Nature's Garden have a new, improved version as well?"  To answer that question, you will need to look at the consistency of the oil, rather than the scent!  Over the years, many customers have requested a French Vanilla fragrance oil that wasn't as thick in consistency, thus leading us to carry French Vanilla New Improved.  So why carry both?  French Vanilla Original continues to be a Best Selling fragrance at Nature's Garden, asserting itself as a scent that isn't going anywhere, anytime soon!  Customers love both French Vanilla fragrances, but for the remainder of this post, let's focus on our original French Vanilla Fragrance Oil!
What Does French Vanilla Original Fragrance Oil Smell Like?
French Vanilla Original Fragrance Oil from Nature's Garden is a rich, delightful oil which fully encompasses the scent of warm French Vanilla.  Unmistakably sweet French Vanilla Original is the scent you're looking for if you're looking to turn heads with vanilla aromas!
How Do Our Customers Use French Vanilla Original Fragrance Oil?
French Vanilla Original Fragrance Oil is perfect for creating a warm, sweet, inviting space!  Room scenters can incorporate this fragrance oil up to 50% in scenting recipes such as Smelly Jelly air fresheners and room sprays.  Aroma beads create an easy and fun vanilla scented project!  Vegetable and Paraffin wax candles and tarts standout when this fragrance is used!  The recommended maximum usage is up to 10%.  This fragrance oil performs wonderfully in any of our candle waxes.  If you want to add a little color to your candles, we recommend one drop of brown liquid candle dye per four pounds of wax, or your could shred a small amount of brown color block into your melted wax.  Remember, never use crayons to color your wax as they will clog your wick.
French Vanilla Original Fragrance Oil can be used to create sugary sweet bath and body products.  Bath and body products will be amazing with up to 5% of this vanilla fragrance oil added.  Homemade soap makers can use up to 5% in hot process soap, cold process soap, or melt and pour soap recipes.  Our Cold Process Soap Testing Results have shown that soaps that incorporate this fragrance pour perfectly.  There was no ricing, acceleration, or separation!  After curing, the scent is good and the soap discolors to a chocolate color. We do not recommend coloring soaps made with this fragrance oil.  Remember, never use candle dye in any bath and body product as it is not body safe!
Customers can incorporate French Vanilla Original Fragrance Oil into a wide variety of sweet, warm products.  Perfume and body spray recipes are given a delectable appeal when this fragrance is incorporated, up to 5% of your total recipe.  Customers also make their own lotions with a maximum of 5% fragrance oil,  and household cleaning supplies with a maximum of 5% fragrance oil.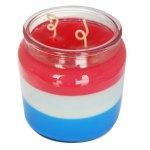 If you're looking for a unique way to use this fragrance, check out our 
free recipe 
for a Fourth of July Triple Layer Candle!  This recipe will walk you through how to make a layered candle at home.