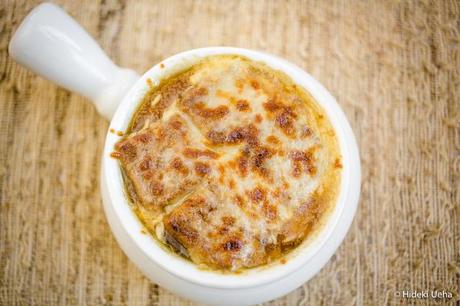 One of the EASIEST soups to make, EVER, is French onion soup. I've been making this soup for years, and it's always been a favorite, but I admit that until recently I've always skipped the all important "baking-of-the-soup-in-the-oven-to-melt-a-thick-layer-of-cheesy-goodness-atop-a-crusty-slice-of-bread" step. It always turned out great, however, even without that last step.
BUT, it turns out that it DOES taste better when you do take time for that last step. :)
About two weeks ago I was complaining of our freezing cold SoCal weather but this past week it was unusually hot (as in close to 80ºF) and I suddenly missed the cold, but really only because I missed our usual Sunday soup days.
Since our forecast predicts rain over the next few days, I'm sharing one of my favorite soups, just in case you need a recipe to try on a cold and dreary day! This is sure to warm you up! The best part of this soup is that is very easy to make, requires very few ingredients, and is a quick hearty meal with a nice side salad. It's perfect for when life gets busy.
I'm keeping today's post very short since I've been pressed for time lately. Let's hope the weather stays cool because I have a new soup I'd like to try and make this weekend! Stay tuned!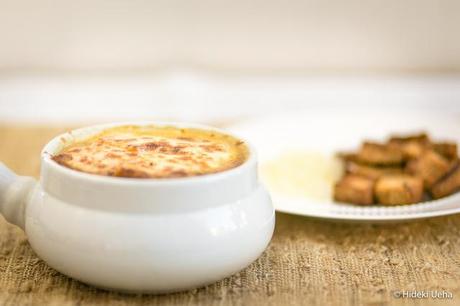 Print
French Onion Soup Prep time:  10 mins Cook time:  45 mins Total time:  55 mins Serves: 
4 to 6
  Ingredients
1 tablespoon extra virgin olive oil
2 tablespoons butter
6 medium onions, thinly sliced (brown or sweet onions)
1 teaspoons ground thyme
1 bay leaf
2 32-ounce cartons of low-sodium beef stock (8 cups)
Salt & pepper to taste
Slices of toasted french bread, or croutons
2 ½ cups shredded Monterey Jack, Swiss or Gruyere cheese
Instructions
Thinly slice onions. Heat deep pot over medium heat and add oil and butter.
Add onions to pot, season with salt and pepper, 1 teaspoon thyme. Cook onions 15 – 20 minutes until tender, sweet, and slightly caramelized.
Add bay leaf, beef stock and bring to boil. Simmer on low to medium heat for 20 – 30 minutes, until onions are very tender.
Set oven to broil on high. Arrange 4 small deep soup bowls or crocks on a cookie sheet. Pour soup into bowl and float 1 toasted bread in each bowl. Place a mound of cheese on top of the bread, and place in broiler until cheese melts and bubbles (about 3 – 5 minutes). Be sure to watch the cheese as it tends to burn very quickly in the broiler.
Notes Recipe adapted from Rachel Ray. 3.1.09