If you love French Onion Soup, then this rustic French Onion Galette is for you; caramelized onions with Gruyere cheese and thyme on a flaky crust. Très délicieux.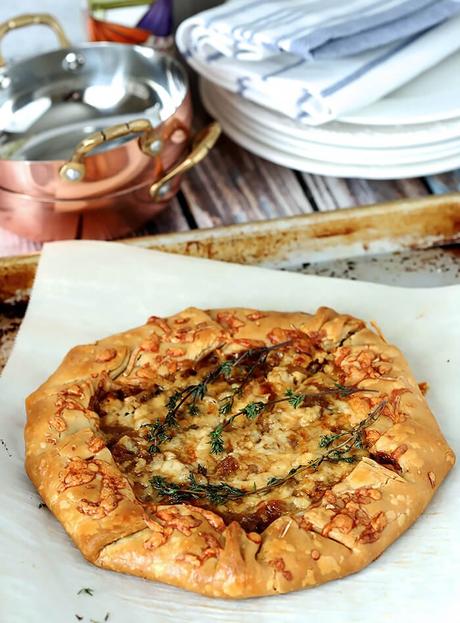 The term galette has a loose definition that is tied to the French word galet, meaning a smooth, flat pebble. A reach into history and many consider that the very earliest breads were indeed galettes-simple, unleavened breads made by smearing thick cereal paste on hot stones. An early tradition that has been much improved with a dish like this French Onion Galette.
By definition a galette is any flat, round pastry or cake-like creation. Although this can include round, shortbread-like butter cookies, thin buckwheat crêpes or something as simple as potato cakes; that is not what I typically think of when I consider making a galette.
For me a galette is much like a tart but has a very free-form crust. It is a pastry dough used more like a pizza and typically the sides are rolled back up over the filling to constitute a crust of sorts. While the edges can remain flat, I don't do that because I want to contain any juices that might flow from whatever I'm putting into the galette.
Italian cooks use the term crostata in place of galette but the only crostata I've made has more of a shortbread crust. This Cherry Ricotta Crostata would be perfect this time of year with fresh cherries so plentiful in the market; you must try it too!
Galettes can be either sweet or savory...whatever you can put into a pie...you can probably put the same into a galette.
One of the beauties of this rustic tart is how easy the crust is...there is no crimping. While I long ago mastered a technique I can't even describe, I would literally have to show you you how I crimp, but I do think it's easy. Still, for many that dexterity is harder and galette to the rescue...it's look great too, doesn't it? Win-win!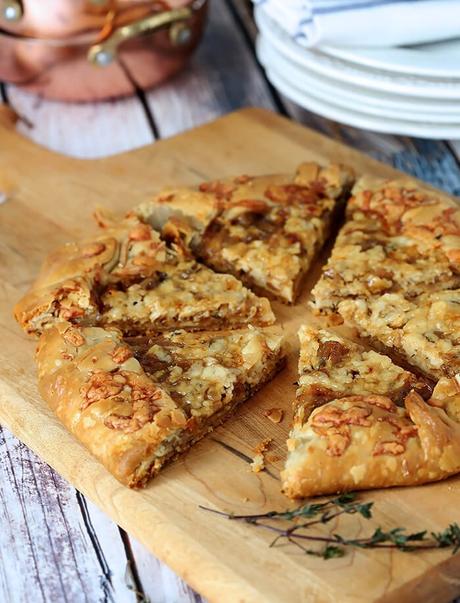 The idea to make this dish was pretty simple...I am in a Facebook group that discusses trends in food and food history and well, lots of food culture. Someone posted about this French Onion Galette from The Kitchn not too long ago and I had recently made a big batch of Instant Pot Caramelized Onions so I was on it within minutes.
The recipe included in this post includes directions for stovetop cooking of your onions but if you want to jumpstart them, try making them first in your pressure cooker and then following the rest of the steps according to the recipe that follows at the bottom of the page.
While I will often use less expensive Swiss cheese when I make French Onion Soup, I luckily happened to actually have Gruyere in my fridge and it does add something extra delicious and nutty. Still, by all means use Swiss too if that's what you prefer or have on hand; it will be great.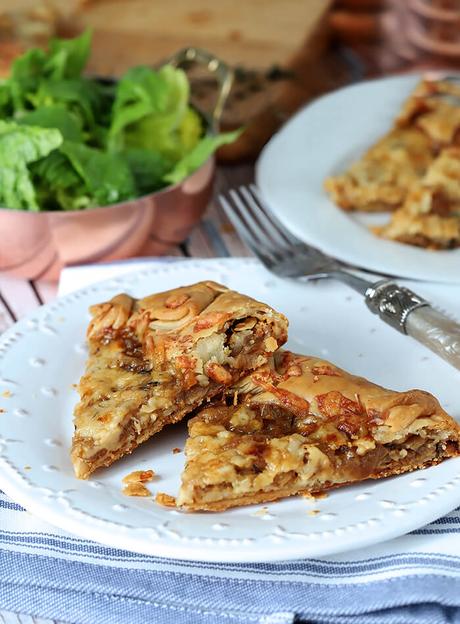 True confession? I've made this a couple of times and while I seriously love a 'from scratch' dough, I don't always use them. I'm sure the pie dough police would have my head but I like blending a bit of convenience with something homemade so I always keep a package of Pillsbury's Pie dough discs in my fridge.
You simple let one thaw and the next step is...well, there is no next step, you're ready to go. They are a great time saver for busy families and I promise no one has ever returned a pie, a quiche, or a galette slice that I've served that uses one. Give yourself a break today, buy a couple!
The one thing I did though when I used a purchased crust for this French Onion Galette was to sprinkle it with black pepper to simulate the recipe for the dough from scratch; that black pepper with the onions and Gruyere is a very good thing.
PIN IT! 'French Onion Galette'