New to little Indiana? Subscribe for free to my RSS feed. Thanks for stopping by!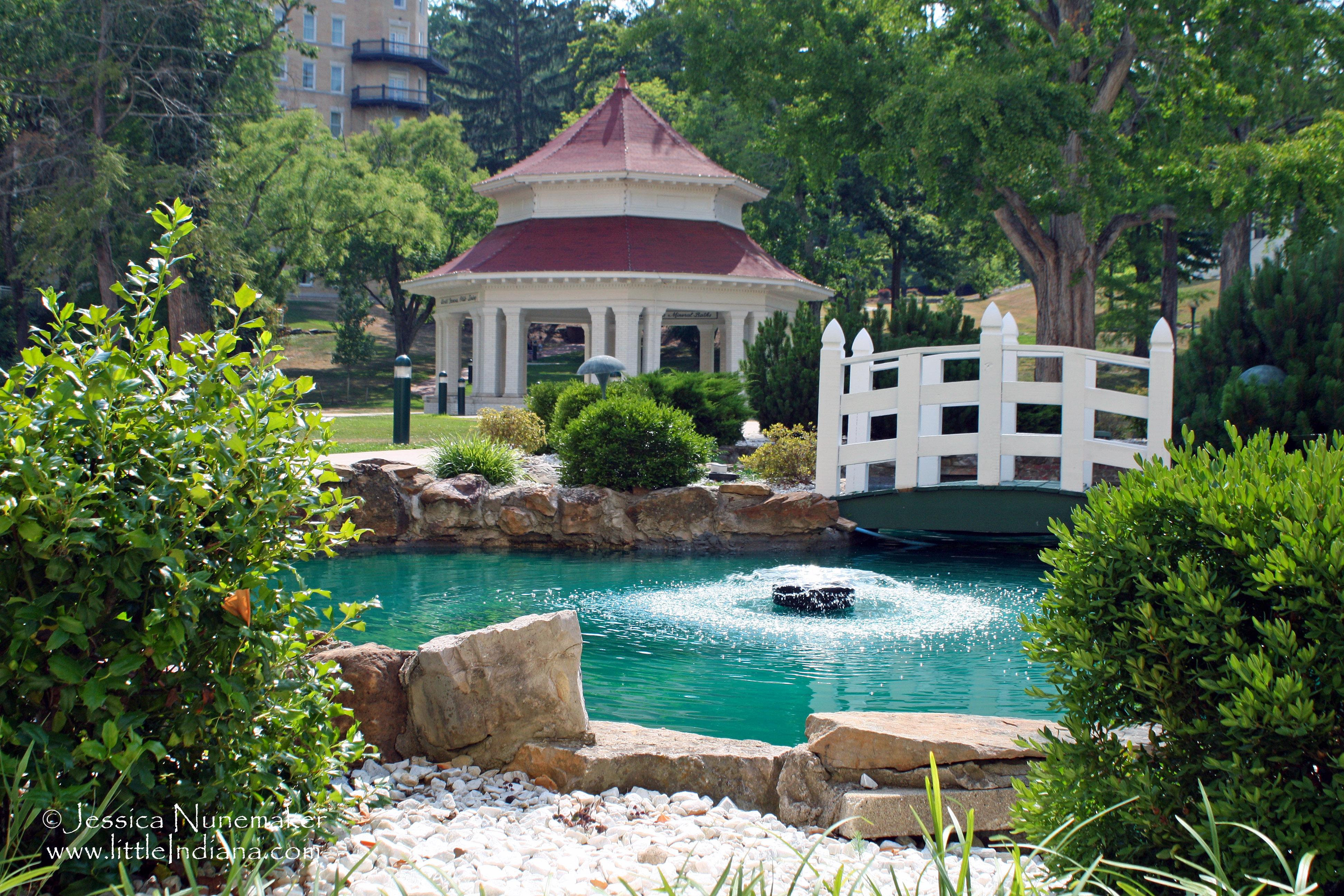 It's no secret that small Indiana towns are destinations (and not drive-throughs)–but French Lick Springs Resort in French Lick, Indiana is a destination all by itself!
It's funny to think that this resort got its start as "America's greatest laxative" but there it is written across the inside of the old gazebo. It's also where tomato juice was invented. They have more than a few claims to fame.
French Lick Springs Resort in French Lick, Indiana
This sprawling Orange County vacation hot spot is just as bustling with activity and fun as it was when it began: back in 1845!  Folks would arrive in droves for the healing benefits of the numerous mineral springs and, more specifically, the resort's own Pluto Water.
Today you can order up a vacation that matches exactly what you want. You pick the way you want to play and French Lick Springs Resort in French Lick, Indiana has got it!
After a day of golfing, biking, horseback riding, or swimming, you'll be ready to try out the award-winning spa! From the Pete Dye golf course and 27,000 square foot sporting center to the award-winning spa, there's plenty here to keep you busy.
While I didn't get a chance to check out the "Signature Pluto Bath"–it's on the list for next time!
Indiana Town Fun
French Lick Springs Resort: French Lick, Indiana Lobby Ceiling
Whether your vacay ideal is sitting on a front porch rocking chair enjoying live music of different styles, the casino, or an award-winning spa experience, you can find it right here under one roof! But if you want to venture out, Orange County is full of great Indiana towns.
For people with kids (like us), you don't need to worry about boredom. There's stuff here for them, too!
Start with an indoor and outdoor pool, throw in bowling, arcade, and KidsFest, a place for kids ages 6 and up to play and get away, and you've got enough adventures to keep anyone happy.
At French Lick Springs Resort, there is no shortage of options. I didn't even get into the restaurants! From pizza to prime rib, there's something for every palate. I even found a phenomenal Reuben Sandwich! You'll have to check back for more on that one.
Go There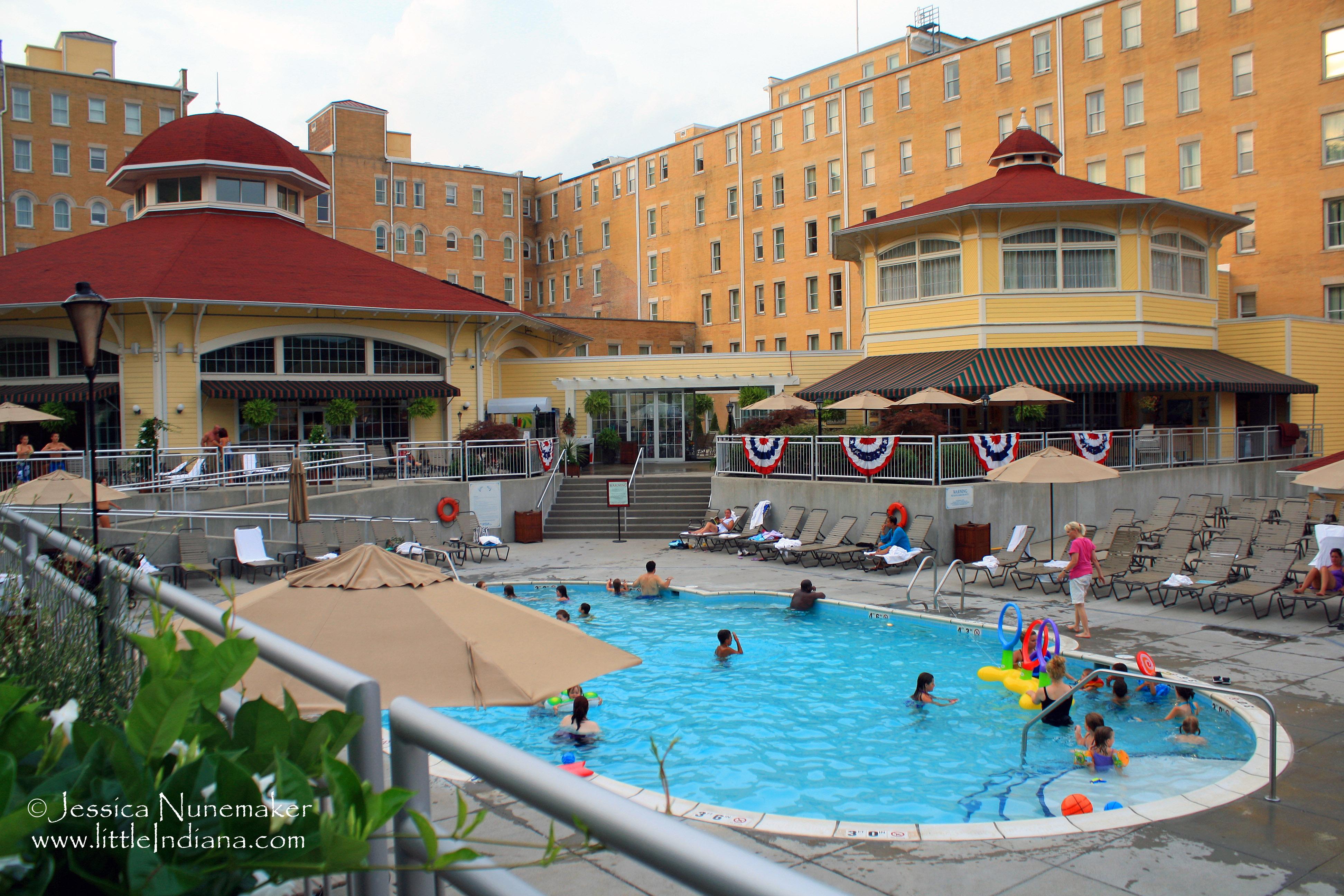 French Lick Springs Resort: French Lick, Indiana Lobby Ceiling
little Indiana and family had such a great time–I don't understand why folks think they need to travel out of state for fun! It's right here in your very own backyard.
This Indiana resort may have roots that begin back in the 1800′s but it is very much a modern vacation destination–even for an Indiana town. Consider this article a "teaser" of sorts. I'll be covering the experiences that I personally participated in separately–from food to KidsFest to biking! Stay tuned!
Find pictures in Indiana on my Flickr photostream or on the new little Indiana Tumblr blog.
Just don't forget to tell 'em that  little Indiana sent you!
French Lick Springs Resort
8670 West State Road 56
French Lick, Indiana 47432
812.936.9300

View Larger Map
Special thanks to Dyan Duncan and French Lick Springs Resort for hosting little Indiana and family. Opinions, as always, remain mine and mine alone!
Don't miss a moment. Subscribe to little Indiana and receive instant updates to stay on top of everything "little."
little Indiana: Where to Stay, Play, and Eat in Small Towns in Indiana. Discovering Indiana's best small towns! Now get little Indiana on your Kindle.
Targeted. Relevant. Affordable! little Indiana advertising.