New to little Indiana? Subscribe for free to my RSS feed. Thanks for stopping by!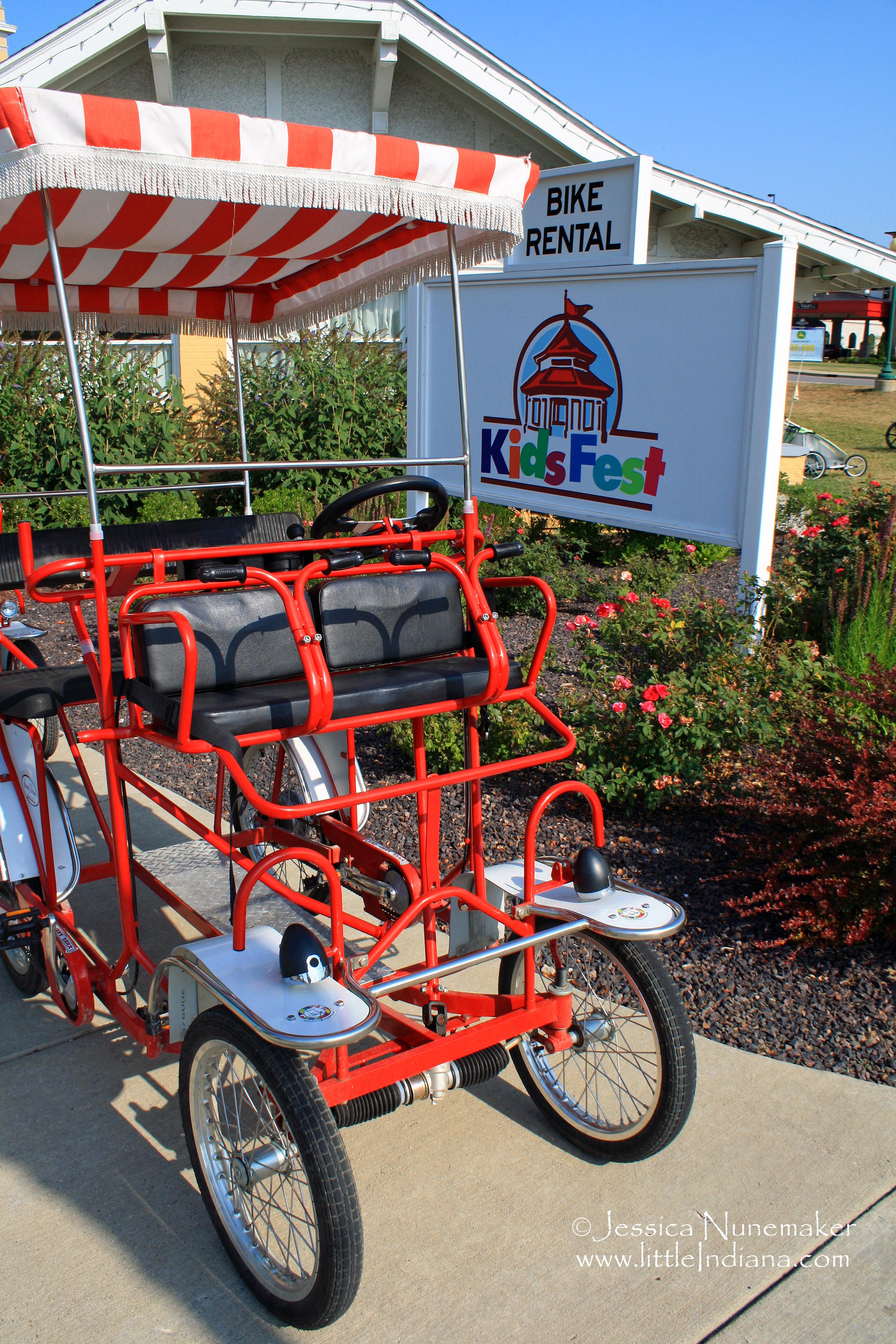 French Lick Springs Resort: Bike Rental in French Lick, Indiana
French Lick Springs Resort
Just pop into KidsFest and you'll be hitting the road in style!
French Lick Springs Resort Bike Rental in French Lick, Indiana
There's a lot of choices at this Indiana bike rental shop that does double-duty as the KidsFest locale.
little Indiana and family first hopped on one of those four seater bikes with the two seats for kids in the front. Let's just say I'm taller online. We couldn't do the practice lap very well so we made the wise decision to switch it out with something more my size. A cute classic bike!
French Lick Springs Resort even had a seat so Kid #2 could sit behind me like he always does at home. He was thrilled!
Although Kid #1 could have ridden a bike his size, we wanted to ride a distance without having to turn around so–the resort provided a neat attachment. It looked like the back half of your usual bicycle but with one big difference: the front portion has a long steel section that attaches to a grown-up bike.  This way, the younger rider can pedal and have fun too!
Indiana Bike Rental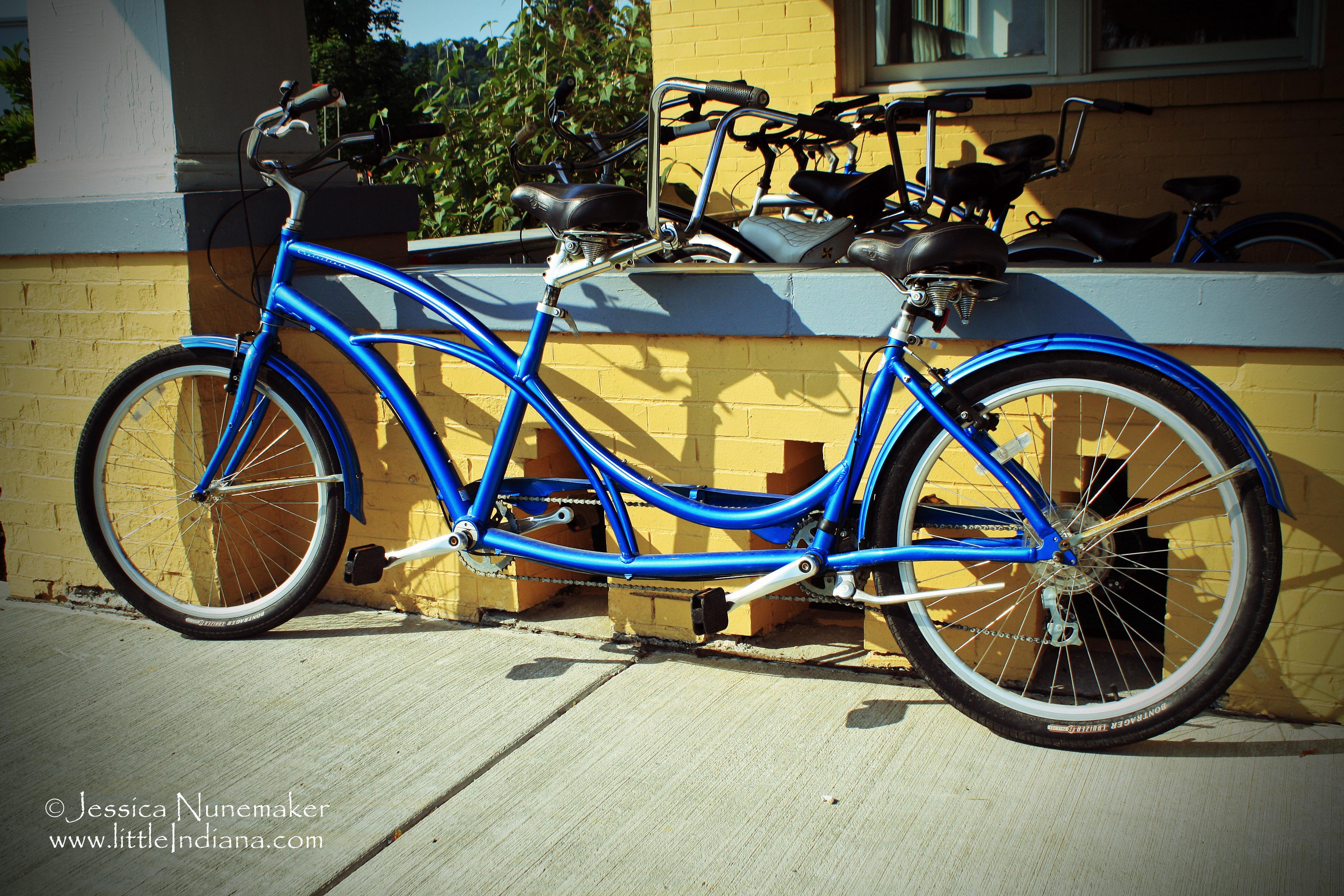 French Lick Springs Resort: Bike Rentals in French Lick, Indiana
I love that bicycle. On the street, it really flew! But we couldn't just stick to the main roads–we wanted to explore this part of French Lick, Indiana!
So, we set out, following the bike trail signs. We got to see a bit of the lovely Pete Dye Golf Course. What we could view looked really sharp.
We also ventured over to West Baden Resort. Here's my word of warning: if you go for the adorable street bike, you will have trouble with gravel.
There are other styles of bicycles so think about where you want to roam. But if you want to go explore back near West Baden Resort, I'd go for something more rugged.
Go There
Is there anything  that French Lick Springs Resort doesn't have as an option? This place is packed with things to do.
But would you believe there's even more? Stay tuned for this one!
Find pictures in Indiana on my Flickr photostream or on the new little Indiana Tumblr blog.
Just don't forget to tell 'em that  little Indiana sent you!
French Lick Springs Resort
8670 West State Road 56
French Lick, Indiana 47432
812.936.9300

View Larger Map
Special thanks to Dyan Duncan and French Lick Springs Resort for hosting little Indiana and family. Opinions, as always, remain mine and mine alone!
Images on the little Indiana Instagram account of our bike ride is courtesy of my Droid RAZR from Verizon Wireless. Opinions, as always, remain mine and mine alone!
Don't miss a moment. Subscribe to little Indiana and receive instant updates to stay on top of everything "little."
little Indiana: Where to Stay, Play, and Eat in Small Towns in Indiana. Discovering Indiana's best small towns! Now get little Indiana on your Kindle.
Targeted. Relevant. Affordable! little Indiana advertising.