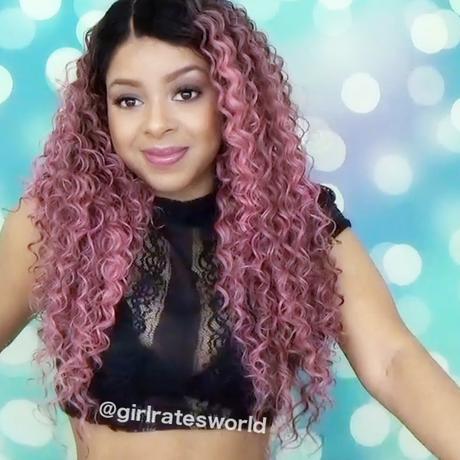 Well helloooo Freetress Equal Talia. How fun is this synthetic lace front wig? I'm so in love with the curl pattern on this style. It's on the longer side but that's ok because it's giving me rock-n-roll! Talia requires little styling. And the color options for this wig is unbelievable. Definitely give this one a try if you're looking for something a bit more adventurous for the summer. Talia is also really affordable – averaging about $40 online and at local beauty supply stores.
FREETRESS EQUAL TALIA WIG REVIEW

WIG SPECS:
BRAND:
Freetress Equal
NAME:
Synthetic Lace Front Wig TALIA
COLOR SHOWN HERE:
ROSEPINK
MATERIAL:
Synthetic – Heat resistant fiber
TYPE:
Lace Front Wig
LENGTH:
Long, layered 20 – 22 inches
PARTING:
4-inch lace part
HEAT SAFE:
Yes – Up to 390ºF / Heat resistant fiber
WIG CAP:
Comfortable size with 2 combs at temples and 1 in back; adjustable straps.
RATING:
4 stars by GirlRatesWorld

TIPS FOR STYLING:
– add ebin edge tamer to smooth and shape your hairline
– store unit in wig bag or on a wig stand to keep tangle free
– tweeze parting for a more natural look if needed
– add a cream concealer or foundation powder to parting

❤I'M SOCIAL!❤
I hope you found this hair review helpful. I have dozens of wig reviews posted on this site. Stay up-to-date by following @GirlRatesWorld on your favorite social media sites. YouTube | Pinterest | Instagram | Facebook. I appreciate the support and share my blog with anyone else who ♥︎loves♥︎ hair as much as we do!
Related Post
Its A Wig Synthetic Remi Touch QP Beverly
GLS66 Wig by Friday Night Hair!!!
Isis Collection Brown Sugar Wig BS103
Model Model Synthetic Lace Front Wig – LEVI

About GirlRatesWorld
Beauty and style lover with an addiction to wigs, pups, french toast and neon polish. Hundreds of reviews under my belt with new ones added weekly. Be sure to swing by often ♥︎.